PermaBase – The Only Cement Board You'll Ever Need
The effectiveness of any tile installation depends a lot on the type of substrate you're tiling onto, whether it's a wall, floor, shower enclosure, splashback, or wetroom. If the surface to which the tiles are being attached directly is uneven, the project's finish will suffer, and so will its durability and longevity. Plaster, plywood, and MDF are all vulnerable to external factors such as water damage, warping, and structural failure. However, one sure-fire way to avoid these issues is to use backer boards as your substrate, this is where PermaBase Cement Board meets the brief.
A cement backer board (also known as cement board) is the most common backer board used in ceramic and porcelain tile installations. This type of board, made primarily of cement and reinforced with fibreglass, is waterproof and is commonly used for tiled shower surrounds and enclosures, wetrooms, and floors in areas exposed to direct water. This blog will review the difference between the PermaBase Cement Board and other backer boards.
What is Permabase Cement Board?
PermaBase Cement Board is a rigid substrate made of Portland cement, aggregate, and glass mesh that provides an exceptionally hard, long-lasting surface that can withstand prolonged moisture exposure. It is an excellent underlayment for tub and shower surrounds, countertops, flooring, and a wide range of other interior and exterior applications. PermaBase EdgeTech Technology is lightweight and straightforward to install. The tapered, reinforced edge design allows for a closer nail or screw application, even at the edge, without crumbling or spinning out. Additionally, all PermaBase Cement Boards resist the growth of mould and mildew due to their extremely low water absorption rating.
Fibre cement boards are easy to install, cut and fasten with screws, resulting in reduced labour costs and quick installation times. Permabase Cement Boards offer:
Lifetime Limited Warranty on PermaBase Interior Applications
15-Year Limited Warranty on PermaBase Exterior Applications
Reinforced edge with EdgeTech® technology
Moisture and impact resistant, highly durable and dimensionally stable
Applications of PermaBase Cement Board – Internal & External
Among its many uses, PermaBase is ideal for use as an underlayment or backing surface for tub and shower surrounds, countertops, flooring, and other interior and exterior surfaces.
Interior Applications
PermaBase is a superior underlayment for many interior applications: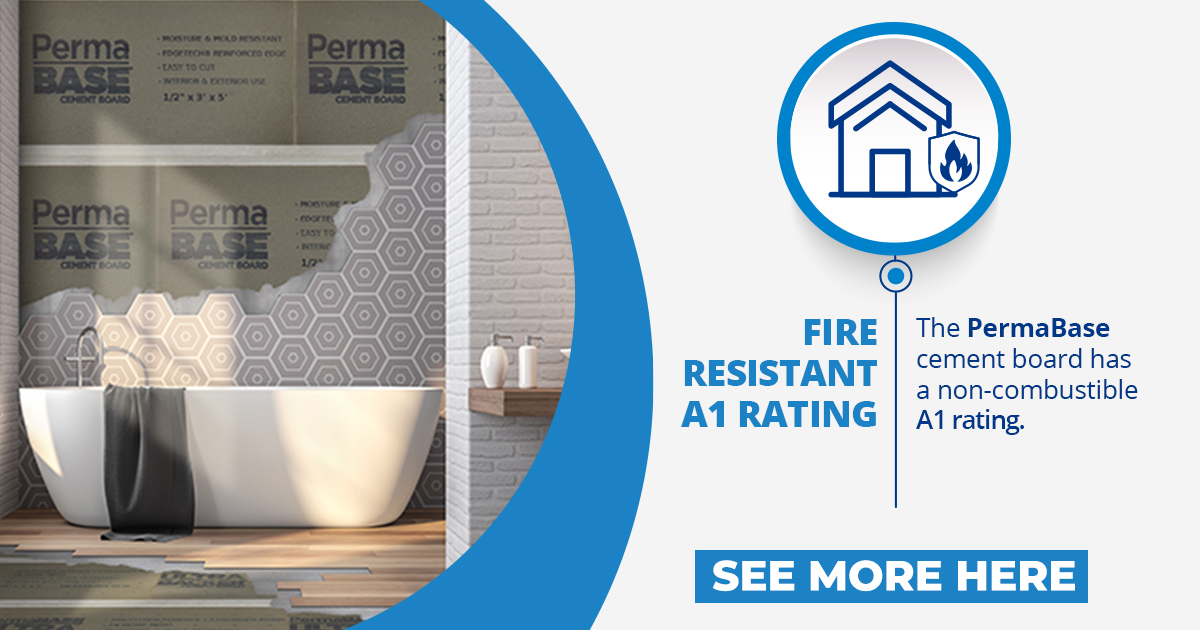 Kitchens
Whether it's wood-grained ceramic tiles on the floor or large thin tiles with mosaic accents on the walls, PermaBase provides the best backer board to ensure excellent results! This can even work for countertops and backsplashes.
Bathrooms
PermaBase cement boards can help with your bathroom transformation. PermaBase provides a moisture and mould-resistant backer board explicitly designed for use in wet areas like this. Perfect for shower and tub enclosures, garden and whirlpool tubs and steam rooms and saunas
Flooring
You can update your home to give it an impressive new look with a wide variety of materials. The PermaBase cement board provides the best substrate for installing those materials. PermaBase is lightweight and easy to install but still provides the durability you desire. Perfect for flooring your kitchen, bathroom, entryways, foyers, and even laundry rooms.
Walls
Adding Wall Cladding to the interior design of your home is a fantastic way to protect your walls and add warmth, depth and features to any room. Unlike wallpaper or paint, Wall Cladding can be easy to maintain and keep clean. Perfect for bathrooms, accent walls and even fireplaces.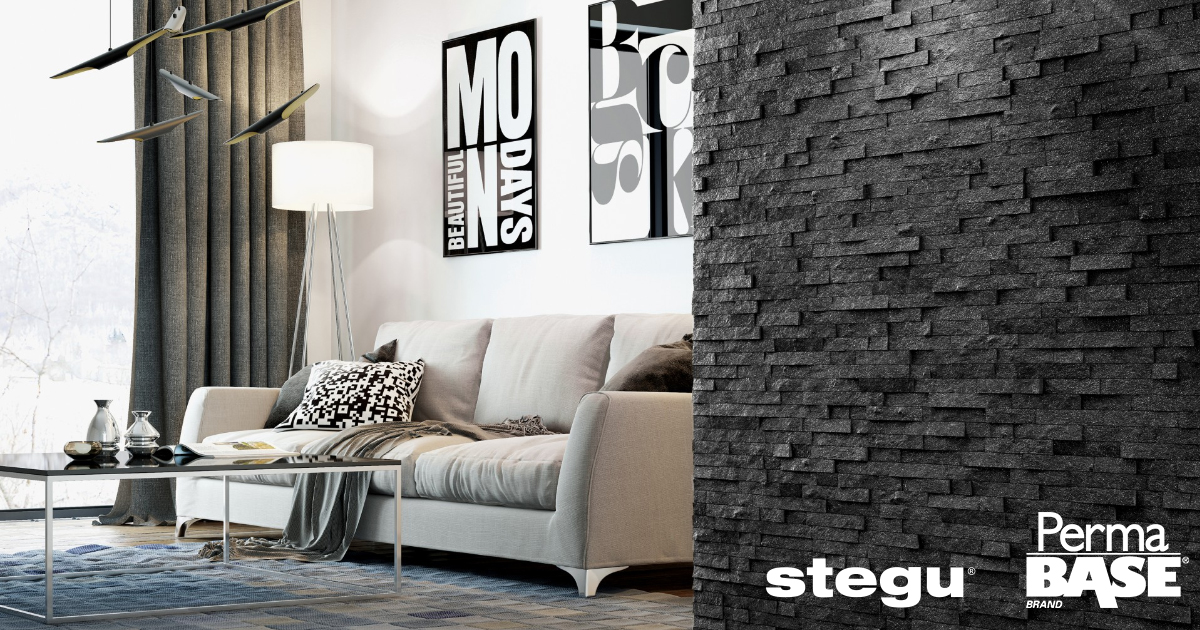 Exterior Applications
Exterior wall cladding can transform the look of the exterior of a property. PermaBase combines exterior finishes on one continuous wall sheathing, providing greater design flexibility. We are fortunate that there is a range of cladding options available that can transform the aesthetic of a building with minimal construction required, but preparation is vital! In order to prepare for the installation of exterior wall cladding, drywall is needed.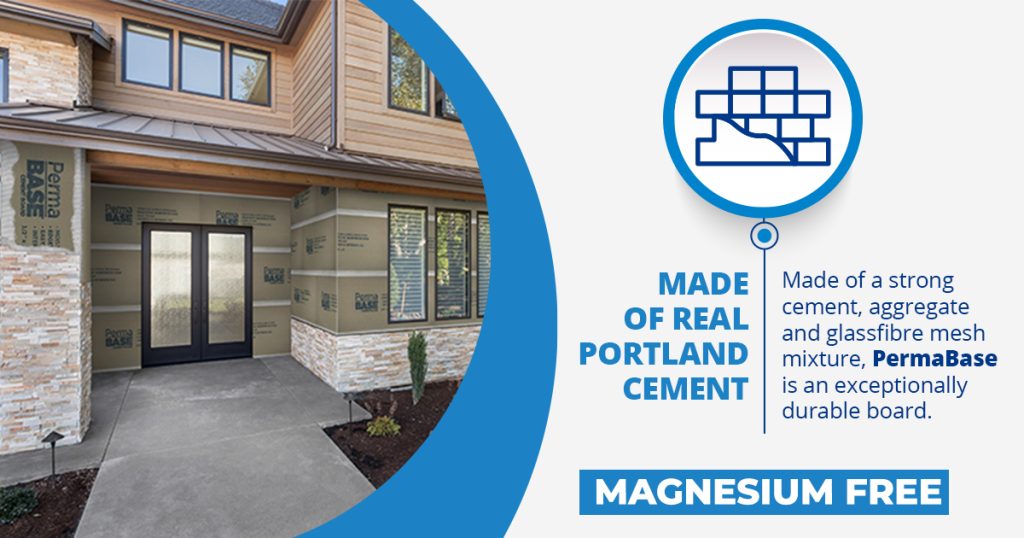 Residential exteriors
PermaBase cement board is resistant to moisture and can withstand harsh weather conditions, making it an ideal material for the Irish climate. For use in residential and low-rise commercial applications, PermaBase cement board is the perfect substrate to provide protection as well as a solid foundation for render systems.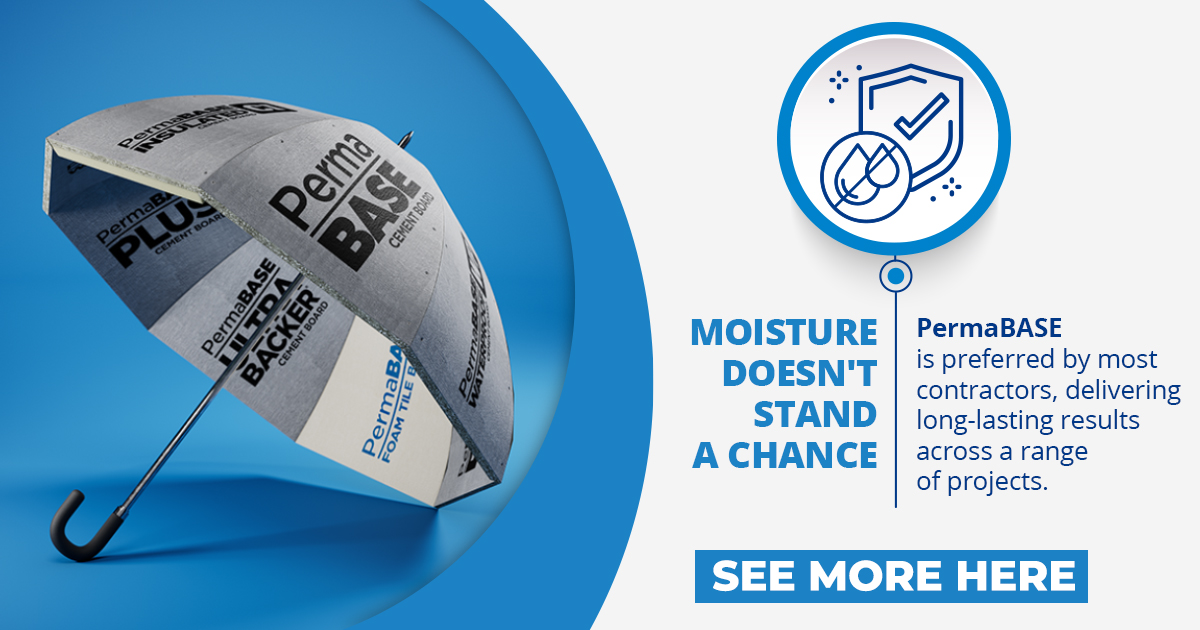 Permabase cement board is an ideal substrate for the application of external render systems such as K-Rend & Sto etc., due to its strength, stability, moisture resistance, and versatility. PermaBase does not expand or contract in response to changes in temperature or humidity, which means it provides a stable and consistent substrate for render systems.
Outdoor Kitchens
For exterior decks, kitchens, grills, fireplaces and tiled decks, prefabricated products can save time and help projects run smoothly by eliminating the need for mixing. That's why PermaBASE Building Products are the industry-preferred choice. Installation-ready and easy to use, PermaBASE delivers exceptional performance for outdoor living applications.
Decks
PermaBase has reliable performance for high-value roof decks. A higher-value infrastructure requires a high-performance roof that extends serviceable life against prolonged exposure. PermaBase Cement Board is ideal for all roof systems and protects against fire, moisture, hail and wind, all backed by a solid warranty.
PermaBase Cement Board advantages compared to other backer boards
PermaBase is made of Portland cement with no harmful aggregates or fillers. It has excellent flexural and compressive strength, as well as excellent moisture resistance and low moisture absorption, which means the board will never sweat.
PermaBase contains no salt, so fasteners and brackets are not at risk. It's the only board you'll need for various internal and external applications. Because of its durability and long life, the board will last you a lifetime for your building. There will be no callbacks to fix cracked tiles or render because there will be no cracking, warping, or swelling. The PermaBase cement board has a non-combustible A1 rating and one and two-hour fire ratings depending on wall build-up, which is critical when meeting building fire and safety standards. The Laydex website will have full details on the non-combustible fire ratings of PermaBase cement boards.
Range of PermaBase Products Available
Cement Board for Both Interior and Exterior Applications
With its patented EdgeTech technology, PermaBase has a competitive advantage over similar products. The tapered, reinforced edge design enables nail or screw application closer to the edge. EdgeTech technology allows for closer nail or screw fastener application at the edge without crumbling or spinning out. PermaBase resists mould and mildew growth, earning a panel score of 10, the highest possible.
A homogeneous core contains fewer voids and allows for a straightforward, clean score and snap.  A standard utility knife and straightedge can be used to cut it. With PermaBase's unique core composition, cleaning the edge after a cut requires little to no additional labour.
PermaBase Tape
PermaBase tape is a fibreglass tape that is resistant to alkali; the tape was created specifically to reinforce PermaBase cement board joints and corners.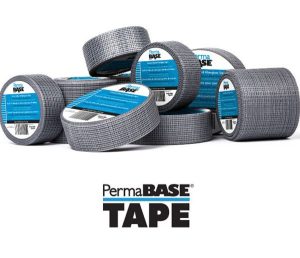 Screws to Use with PermaBase Cement Board
PermaBase Screws are corrosion-resistant screws specifically designed for use with PermaBase Cement Boards. They secure PermaBase Cement Board to wood or steel studs, plywood subfloors, ceilings, and countertops.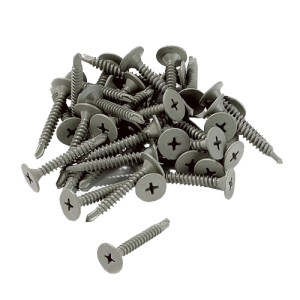 Cement Board Underlayment for Ceramic Tile
1/4″ PermaBase BRAND Cement Board is an underlayment for ceramic tile on floors, countertops, tub decks and outdoor kitchen counters. PermaBase Cement Board 1/4′′ is a rigid substrate made of Portland cement, aggregate, and glass mesh that provides an exceptionally hard, durable surface that can withstand prolonged moisture exposure.
The tapered, double-wrapped edge allows for closer nail or screw application to the edge while preventing damage in transit and on the job site.
PermaBase absorbs less moisture than other backer boards, resulting in a more accurate open time and a stronger bond. Double-wrapped edges allow for closer nail or screw fastening without crumbling or spinout. It is more durable in transit and on the job site and easier to handle.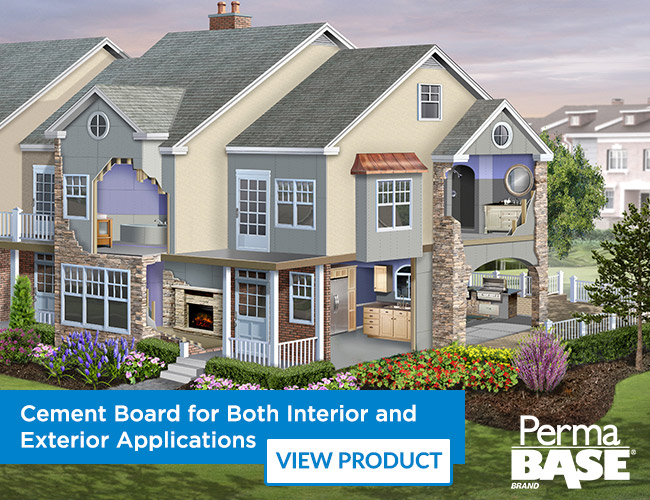 If you have any further questions about PermaBase Cement Board, please contact our sales team by calling 01 642 6600 or email sales@laydex.ie – they'll be more than happy to help.