Whether in your home or business, there will be areas which are prone to becoming wet and humid. This can result in condensation and damp, which occurs when warm, moisture-laden air comes in contact with colder surfaces. 
Many people have experienced damp in their households, with a recent study stating that over 600,000 people across Ireland live in homes with damp walls.
In addition to damaging your internal decoration and creating an unsightly space, it can also cause long-term health problems. Due to this, it is important to prevent damp before it has the opportunity to begin spreading. At Laydex, we recommend installing fibre cement boards such as our high quality PermaBase Cement Boards.
Why Use Fibre Cement Boards?
Fibre cement boards are an excellent way to protect and strengthen walls in wet and humid areas. Our range our PermaBase Cement Boards can be used for interior or exterior purposes and is ideal an underlayment for bath and shower surrounds, worktops, flooring and a variety of other applications.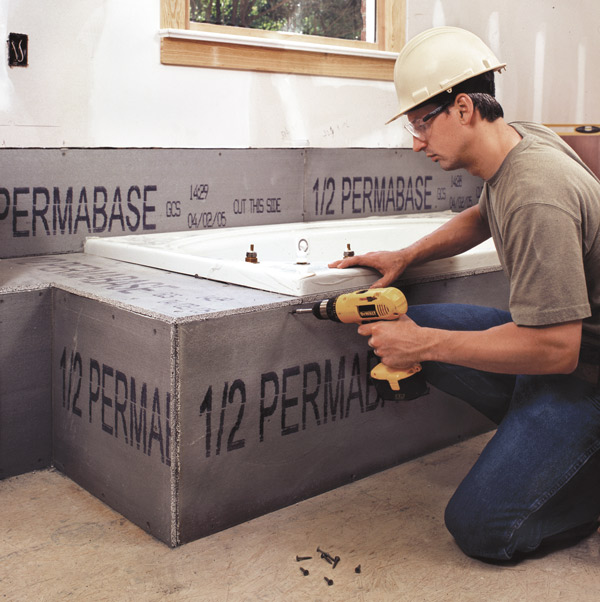 Additionally, fibre cement boards are easy to install, cut and fasten with screws, resulting in reduced labour costs and quick installation times.
At Laydex, we offer three types of Permabase Cement Boards, these include:
1) Permabase Cement Board; These rigid cement boards are made of Portland cement, aggregate and glass mesh that provides an exceptionally hard, durable surface that can withstand prolonged exposure to moisture. This board can be cut using a standard utility knife and straightedge and requires little additional labour to clean the edge after cut.
2) PermaBase Flex Cement Board; The PermaBase Flex is a flexible cement board reinforced with alkali resistant fibre mesh and is ideal for use around columns, archways, curved walls, ceilings and anywhere an evenly curved surface is required.
3) PermaBase Cement Board Underlayment; This cement board is used as an underlayment for ceramic tiles on floors, countertops and baths. It is a rigid board made from Portland cement, aggregate and glass mesh which allows it to withstand prolonged exposure to moisture.
All products use patented EdgeTech® technology, enabling closer nail or screw application to the edge. Additionally, all PermaBase Cement Boards resist the growth of mould and mildew due to their extremely low water absorption rating.
Does Fibre Cement Absorb Water or Rot?
Due to the combination of Portland cement, aggregate and glass mesh, PermaBase Cement Boards have a very low water absorption rate. In fact, they have achieved the lowest water-absorption rating of any cement board, allowing a better tile bond. This means that the boards are resistant to water damage, rot or warp, ensuring greater durability. Additionally, these fibre cement boards are frost-proof and fire-resistant.
Whether in the interior or exterior of your home, adding this rigid insulation will help you protect your property from water damage, mould and rot. You will also benefit from a lifetime limited warranty on PermaBase Interior applications and 15-year warranty on PermaBase Exterior applications, allowing you greater security when using these cement fibre boards.
If you want to find out more about the Permabase range or any of our other products, take a look at our website or get in touch with us today.