Bond It All Weather Roofing Compound
Bond It All Weather Roofing Compound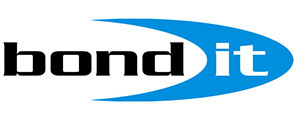 Description
A general purpose, waterproof coating for all common roofing surfaces including mastic asphalt, roofing felt, corrugated iron, fibre/cement, slates, lead, copper, tin and zinc. Excellent adhesion to damp surfaces, resistance to extremes of temperature and does not crack in the cold or flow in the sun. Recommended where the threat of frost or rain precludes the use of an emulsion. Can be over coated with a suitable decorative solar reflective paint to prolong the life of the coating.
Preparation
All surfaces must be structurally sound, clean, dry and free from surface contaminants such as grease, rust and dirt. If necessary, remove any organic growth i.e. moss or lichen, with a fungicidal wash. If the surface is still dusty after cleaning, or covered with weathered bitumen, prime with BITUMEN PRIMER and allow to dry.
Type of solvent:
White Spirit
Approximate Specific Gravity:
1.0
Approximate Coverage:
1 litre covers @ 1.4m2 . Two coats will give a dried film of approx 0.7mm
Chemical Resistance:
Resistant to: most salt solutions, dilute acids and alkalis.
Not resistant to: oils, solvents, some detergent solutions and some glass cleaning compounds
Fire Resistance:
WET: Flammable
DRY: Will burn
Heat Flow Resistance:
The cured film will not sag or flow under normal conditions
Full Information:
Check out the full datasheet available in the Downloads section!