Bond It Bitubond Bitumen Paint
Bond It Bitubond Bitumen Paint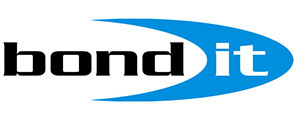 Description
A solvent-borne, bituminous black paint for the waterproofing and weather protecting of steelwork and concrete. Used for the protection of ferrous and non-ferrous metals, concrete roofing, felt, fibre cement, corrugated iron, asphalt and wood, against water. Suitable for drinking water tanks as it forms an odourless and taint-free bitumen film coating.
What the experts have to say

Bitumen Paint
Preparation Tip
Thoroughly clean surfaces to be treated. Rust should be wire brushed to remove as much as possible, any residue must be primed with a rust inhibitor primer. Surfaces to be treated must be completely free of water.
Type of solvent:
White Spirit
Approximate Flashpoint:
40°C
Approximate Specific Gravity:
0.901
Approximate Coverage:
4-6m2 per 1 litre (dependent on substrate porosity)
Service Temperature Limits:
-20°C to + 50°C depending on service conditions
Application Temperature Limits:
Normally 5°C to 40°C and free from ice/ water
Chemical Resistance:
Resistant to: most salt solutions, some dilute acids and alkalis, water and alcohol
Not resistant to: oils, solvents, some detergent solutions.
Size:
1 Litre, 2.5 Litre, 5 Litre, 25 Litre, 200 Litre
Full Information:
Check out the full datasheet available in the Downloads section!