Bond It Anchor Bond
Bond It Anchor Bond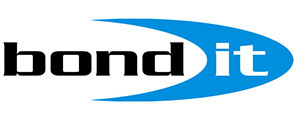 Description
A polyester resin, single pack, rapid curing, chemical anchoring system. A 2-part system applied in one single action to produce a cost-effective, tough chemical resistant fixing.  Use of Anchor Bond makes the fixing an integral part of the substrate as the load is spread throughout the entire fixing area as opposed to when plastic plugs or mechanical fixings are used especially in friable or cracked substrates.
Application
Suitable for setting bolts, studs, wall ties, starter bars or large screws, etc. into a wide range of substrates. Compatible with brickwork, concrete, masonry, stone and aerated concrete blocks. Ideal for close-to-edge applications (unlike expansion anchors) as no stress is placed on the surrounding substrate. Full cure is obtained after 2 hours.
Colour: Grey.
Container Size:
310ml, 380ml
Curing:
Dependant on temperature. As a guide @ 20°C - Gel Time: 5 minutes Full Cure: 2 hours
Storage Conditions:
Store in a dry area between 5 degrees C and 25 degrees C
Shelf life:
Use within 12 months
Full Information:
Check out the full datasheet available in the Downloads section!