Reasons for Choosing an Insulated Loft Ladder
According to the Sustainable Energy Authority of Ireland (SEAI), up to 30% of all heat in a home is lost through the attic. A home that has not been properly insulated loses considerably more heat than those that have been, meaning that a properly insulated loft or attic can save you potentially up to hundreds of euros in energy bills.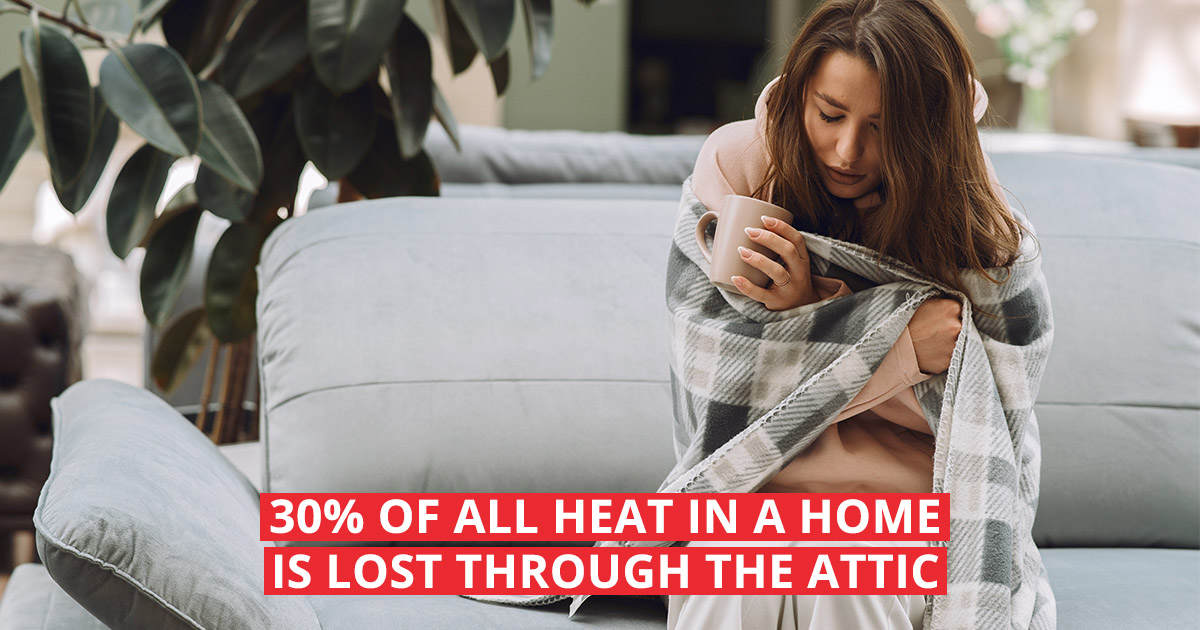 An important but often overlooked part of adequate loft insulation is the loft ladder and hatch. When choosing a loft ladder, it is important to consider the ladder that offers the best energy efficiency, as highly insulated loft ladders contribute to low energy consumption in your home – protecting the environment, conserving resources, and saving you money long term. Even if you are working with a tight budget, it should always be a priority to find the best quality product for your money.
Minka is an industry trendsetter when it comes to developing highly insulated loft ladders that contribute to low energy consumption in your home.
Convenience of an Insulated Loft Ladder
At Laydex, our range of Minka loft ladders are a great option for anyone looking to purchase an insulated loft ladders for their home. With two styles on offer, the The Minka Polar Extreme Airtight Loft Ladder and the Minka Complete Loft Ladder, they both come pre-assembled and ready to be installed, making the process quick and hassle-free. Allowing no chance for unwanted cold or heat to reach the lower floors of the home. These products come highly recommended by industry experts. These fitted and folded loft ladders are easy to use and are safely stored away when not in use.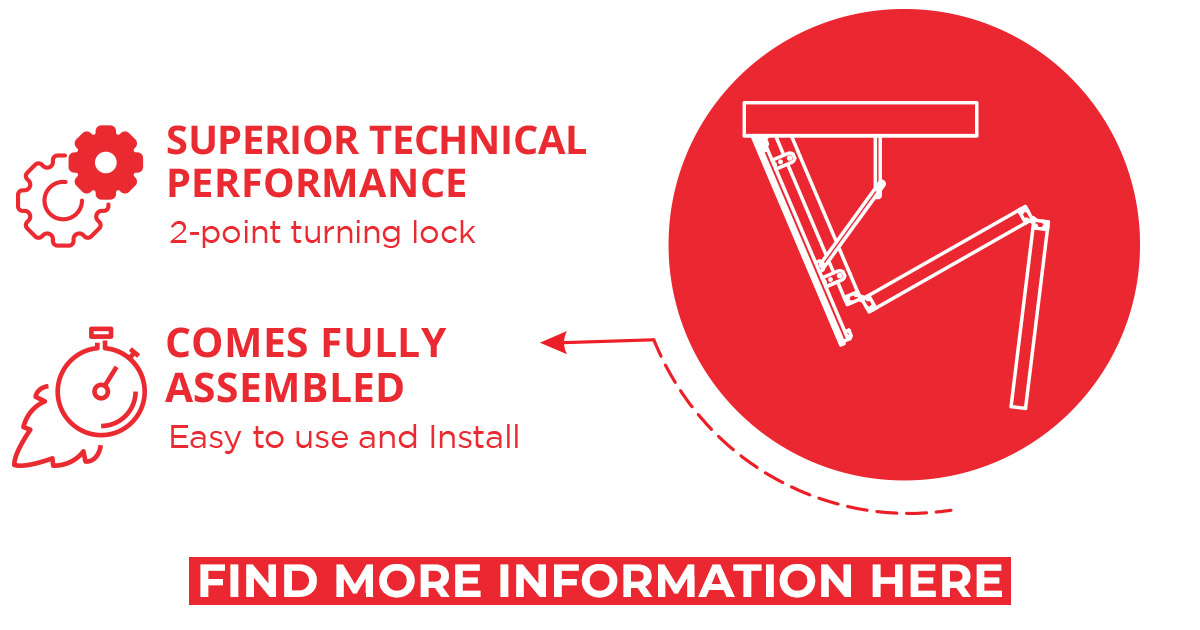 Pleasant Room Climate
The Minka Loft Ladders optimize a seamless gasket that ensures a pleasant room climate, even on very cold days. That means you are free to make the best use of that attic space to store your holiday decorations, out of season clothes, camping equipment, light lawn furniture or anything else you go long periods without needing.
Energy Efficiency
SEAI recommends aiming for a B2 energy rating in your home to receive the most energy savings for the money you invest in it. Minka loft ladders are one of the most energy efficient products on the market, contributing to an improved building energy rating (BER). This is crucially important in compliance with the NZEB (Nearly zero energy building standards) regulations for domestic buildings.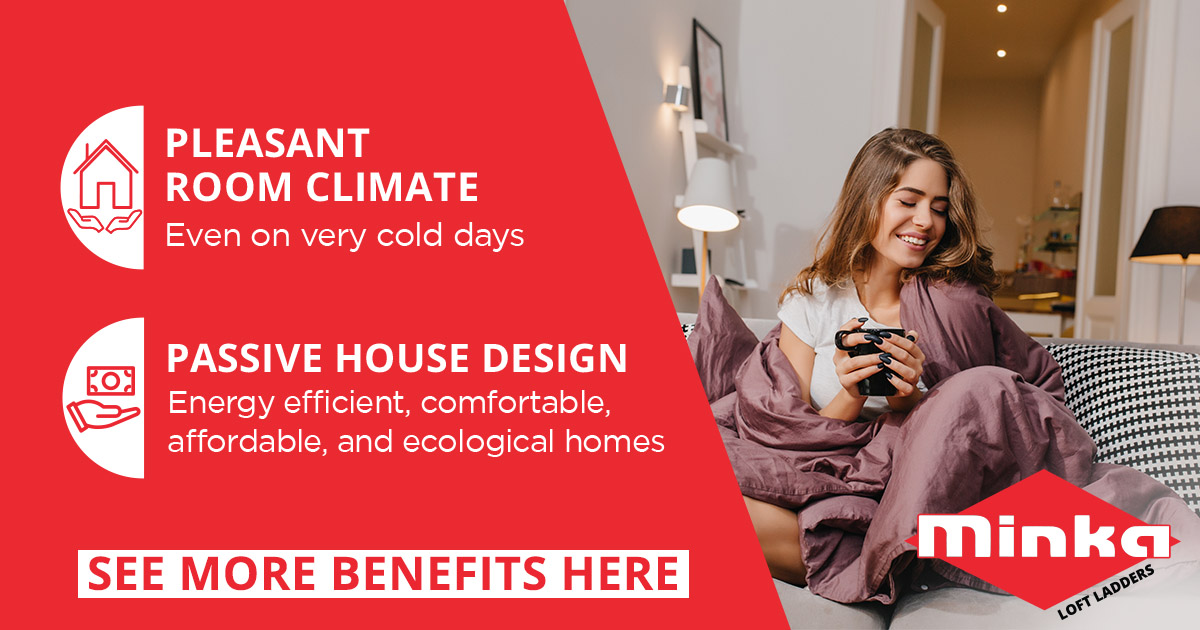 Draught Proof
The additional insulation and airtight door/hatch of an insulated loft ladder work towards preventing heat loss and reducing the money you have to spend annually on heating your home. With an insulation thickness of up to 247 mm and U-values up to 0.14 W/m²K, you'll notice an immediate difference in temperature as the cold air will never get the chance to reach your lower floors.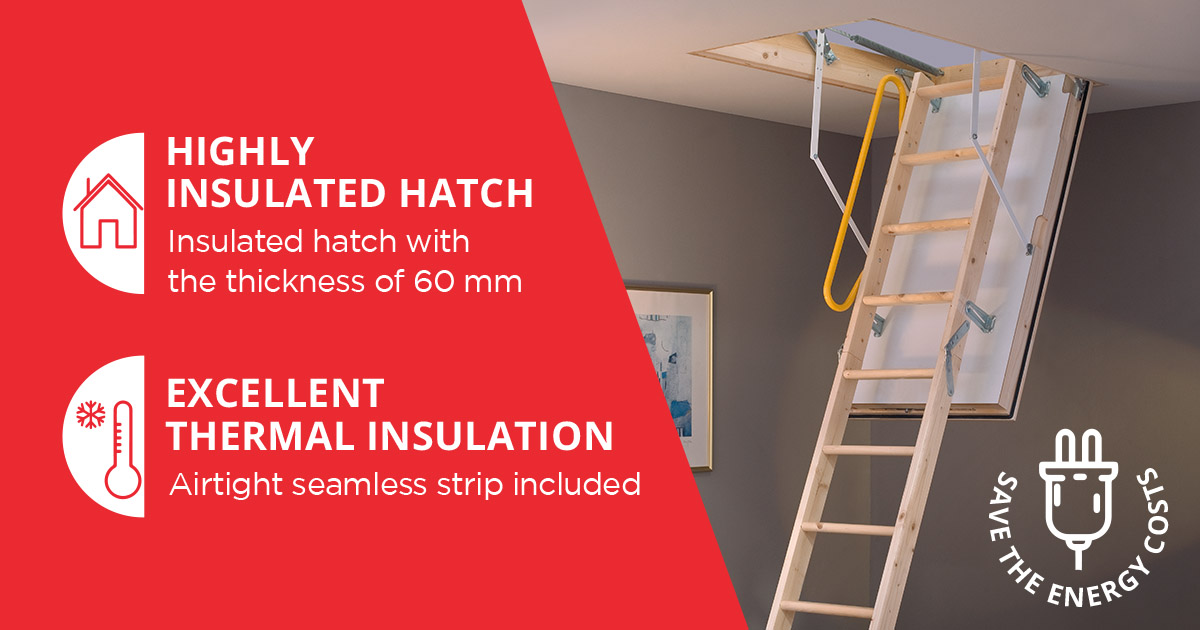 Passive Houses & Insulated Loft Ladders
Passive house design is an innovative construction concept of energy efficient, comfortable, affordable, and ecological homes. The energy savings in Passive House buildings are achieved by using especially energy efficient building components including airtight and insulated loft ladders, such as a Minka Loft Ladders.
For help choosing the right loft ladder for your home, check out our loft ladders buying guide, and contact a Laydex expert today.