Bond It RGC Cyanoacrylate Glue
Bond It RGC Cyanoacrylate Glue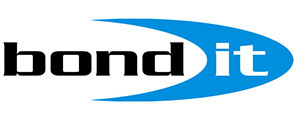 Description
A medium viscosity superglue that fills gaps to 0.1 mm. Fast setting at room temperature and is economical to use, ideal for perfect fit surfaces where rapid setting is required. Suitable for close fir non-porous substrates e.g. most plastics, metals, glass, PVCu, rubber and EPDM.
Set time 5 to 15 seconds.
Chemical Composition:
Ethyl cyanoacrylate
Flammability:
Capable of combustion
Soluble in Water:
No; Polymerises
Soluble in Acetone:
Yes; Miscible
Specific Gravity (@20°C):
1.1 - 1.3 g/ml
Service Temperature Range:
-55 to +80°C
Full Information:
Check out the full datasheet available in the Downloads section!