Bond It De-Bond Mate Silicone Sealant Remover
Bond It De-Bond Mate Silicone Sealant Remover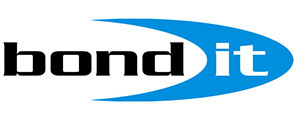 Description
A non-drip gel formula for the complete removal of cured silicone sealant, particularly when silicone has been accidentally smeared over glass, ceramics or counter tops. Removes all types of silicone and sealant by breaking up and digesting the material, leaving surfaces clean and ready for re-sealing.
Application
Ensure the surface of the material is completely dry. Cut away excess sealant with a knife or sharp blade. Protect any surrounding paint work with masking tape. Brush the remover over the old silicone, being careful to avoid areas of correctly applied sealant, and allow to stand for at least 2 hours. Wipe clean with a paper tissue or dry cloth and ensure all traces of solvent are removed. Keep some water handy to deactivate any runs. Surfaces should be degreased with a solvent, such as methylated spirit, before applying fresh sealant.
Solubility in Water:
Soluble
Storage Temperature:
Between 5 and 25°C
Full Information:
Check out the full datasheet available in the Downloads section!