Bond It WP50 Oxime Silicone
Bond It WP50 Oxime Silicone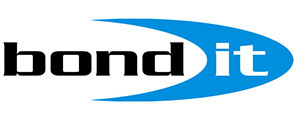 Description
A neutral cure silicone for perimeter sealing of external door and window frames. Rapid curing with good adhesion properties. For perimeter sealing of wood, aluminium and PVCu door/window frames.
Can also be used for weather sealing and flexible jointing of infill panels.

Permanently elastic

Weatherproof

Non fading

Suitable for alkaline and metal surfaces

Low odour
Cure Time:
Approx. 1 mm per day (dependent on temperature and humidity)
Movement Accommodation:
25%
Adhesion:
Good to glass, aluminium, painted surfaces and most common building materials
Ozone Resistance:
Excellent
Shore A Hardness:
Approx. 30 +/-5
Elongation At Break:
250%
Full Information:
Check out the full datasheet available in the Downloads section!