Bond It Caulk-Mate Decorators Caulk
Bond It Caulk-Mate Decorators Caulk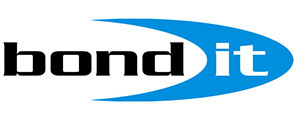 Description
A rapid drying, interior decorators caulk. Remains permanently flexible and can be smoothed and over-painted within 1-2 hours of application. Has good adhesion to most building materials including wood, plaster, brick, concrete and plasterboard.
Preparation
All surfaces must be clean, dry, sound and free from dust, oil or any other contaminants that may hinder adhesion. If necessary, in addition to mechanical means, cleaning with a solvent such as acetone is recommended for degreasing.
Priming
Bond It CAULK-MATE does not require a primer on most common construction surfaces. However, in some cases it may be necessary to prime concrete or other surfaces for optimum adhesion. To determine whether a primer is required a sample should be tested.
Fast Cure:
Tools within 5 minutes
Skinning Time @ 20°C and 50%RH:
Skins after 20 minutes
Full Cure:
24 hours, dependant on bead thickness and temperature
Waiting Time Before Painting:
1 hour for thin beads
24 hours for larger beads
Full Information:
Check out the full datasheet available in the Downloads section!