Bond It Glass-Mate Mirror Adhesive
Bond It Glass-Mate Mirror Adhesive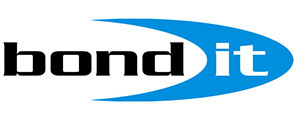 Description
A low modulus neutral cure (LMN) silicone for interior mirror fixing. Has excellent unprimed adhesion on most mirror coatings and has outstanding resistance to heat and humidity. Not affected by sunlight, ultra violet radiation and temperature extremes. This product will accommodate thermal expansion and is non-corrosive and odourless.
Skinning Time:
Less than 30 minutes
Full Cure:
24-48 hours depending on conditions and bead depth
Extensibility:
Up to 450% at breaking point
Application Temperature:
+5 to + 30°C
Service Temperature:
-40 to + 120°C continuous exposure, higher temperatures can be withstood for limited periods
Adhesion:
Good to glass, concrete, ceramics, timber, ferrous metals and most building materials
Full Information:
Check out the full datasheet available in the Downloads section!