Bond It Trowel Mastic
Bond It Trowel Mastic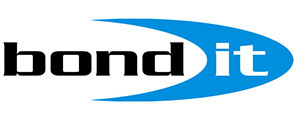 Description
A multi-purpose, trowel grade material for waterproofing, stopping, bedding, pointing and sealing.
Can be applied to most common roofing surfaces including mastic asphalt, roofing felt, corrugated iron, cast iron, fibre/cement, slates, lead, copper, zinc, concrete and timber.
Fibre reinforced making it ideal for filling cracks and holes and cures to give a strong and flexible compound.
Type of solvent:
White spirit, gas oil
Approximate Flashpoint:
40°C
Approximate Specific Gravity:
1.45
Approximate Coverage:
3 litres per m2 (giving 2 mm wet thickness)
Service Temperature Limits:
-10°C to +85°C depending on operating conditions
Chemical Resistance:
Resistant to: most salt solutions, some dilute acids and alkalis, water and alcohol
Not Resistant to: oils, solvents some detergent solutions
Full Information:
Check out the full datasheet available in the Downloads section!