Bond It WP100 Oxime Silicone
Bond It WP100 Oxime Silicone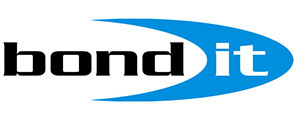 Description
A high grade LMN silicone for perimeter sealing of external door and window frames. Rapid curing with good adhesion properties, along side additional uPVC adhesion promoters and extended open time for ease of tooling.
Conforms to EN15651-1; F EXT-INT, G 25LM.
For external use only.
Curing Rate:
Approx. 2 mm / 24h
Movement Accommodation:
25%
Elongation At Break:
Approx. 400%
Shore A Hardness:
White 20 +/-5
Trans 18 +/-5
Density:
Trans - 1.017 g/ml; colours -1.27 g/ml
Full Information:
Check out the full datasheet available in the Downloads section!