Artificial grass is quickly becoming the preferred choice over natural grass throughout Ireland. There are many benefits when choosing artificial grass over natural grass – it stays green and bright all year round and does not need to be mowed, edged or watered. Other benefits are: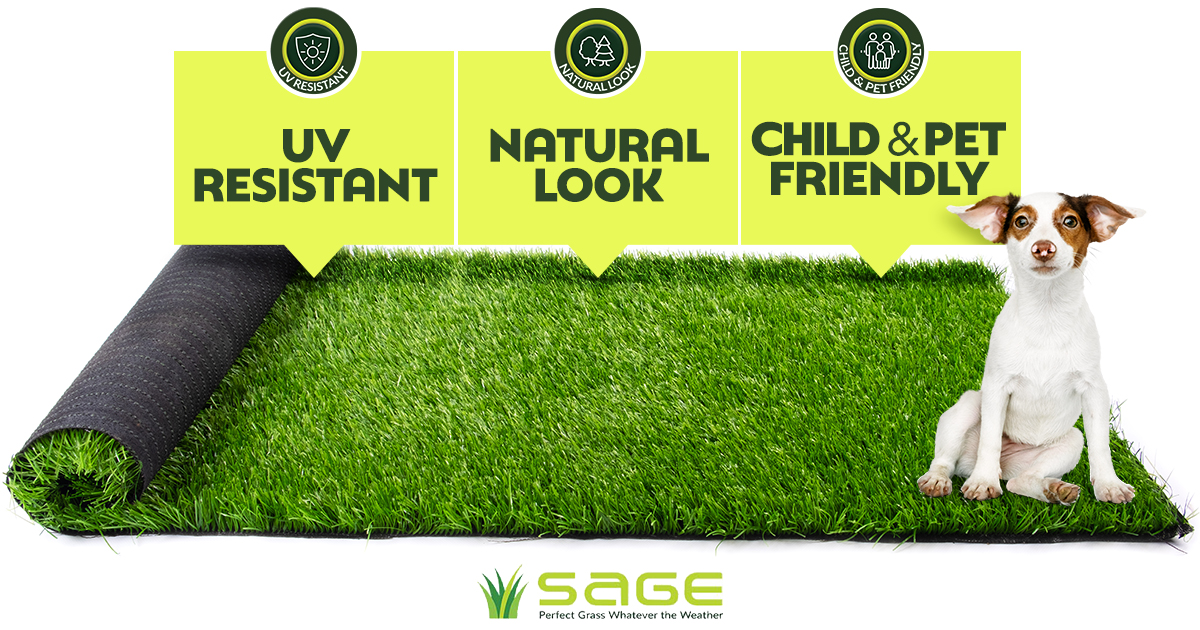 Long-Lasting: Our Sage Artificial grass will stay green all year round. It's treated to control fading and built with drainage, so it dries out quickly when not protected from the weather in Ireland!
Minimal Maintenance: Artificial grass doesn't require being mowed, watered or fertilized. It provides the same look and feel of the natural lawn and allows you to sit back and enjoy your outdoor area instead of battling with weeds.
It's Safe: Artificial grass offers a safe environment for your children and pets.
Read more on how to Maintain Artificial Grass During the Cold Winter Months – No More Muck and Puddles >>
Artificial Grass Preparation
To ensure you give your artificial grass the best chance at longevity it is important that you prep prior to installation. There's a few things you need to consider prior to installing your artificial grass. These include:
Drainage for artificial grass:

To avoid pooling or water lying on the artificial grass every time it rains it is imperative to have adequate drainage in place. Drainage should be your top priority when installing artificial grass. If the drainage is taken care of from the outset it will not be a problem in the future.

Measurements:

Measuring the area for your artificial grass is fairly easy if you have a square or rectangular lawn as you can easily measure two sides to obtain the square metres. Measuring your garden for artificial grass can be slightly harder if you have an irregular shaped garden though. There are lots of 'how to' guides online for measuring for irregular shaped gardens. Bear in mind when you are measuring up that the grass needs to be laid in the same direction.

Sticking It Down:

Artificial grass glue – like the Astro Pro – is an adhesive that can be used in many different ways as part of the artificial grass installation process. It is worth noting that if you are joining pieces of artificial grass together you should use joint tape as well as the adhesive. If artificial grass is joined correctly then you should barely if at all notice the join.

Secure the perimeter:

It is important to make sure that the artificial grass is fixed down properly to avoid lifting or creasing. If your new artificial grass is not fixed down correctly then it will lift at the edges and will cause a trip hazard, in strong winds the lawn could lift off the ground altogether if it is not fixed down in the correct way.

Artificial grass can be laid on most surfaces such as soil, cement, brick and wood. Prior to installation on soil, the surface must be cleaned thoroughly and cleared of any stones or pebbles.
Take a look at a lovely garden transformation featuring Laydex Artificial Grass >>
Tips for installing Artificial Grass
Before you install artificial grass do your research and get a good understanding on what makes a good artificial grass installation. Try to understand the differences between the types of artificial grass and the different densities and pile thickness. You can read our other articles on artificial grass here. We hope you found this blog article useful when selecting your artificial grass.
Interested in buying Artificial Grass
If you want to get specialist advice on our full range of high-quality artificial grass in Ireland contact our professional and friendly Laydex team.