Teranna Composite Railing Kit: Frequently Asked Questions
Composite railing acts as a great alternative to traditional railings such as timber. It's innovative and does not require a lot of upkeep in order to maintain its appearance and attractiveness.
Teranna composite railing is environmentally friendly and provides an attractive and durable surface for domestic and commercial application. The Teranna railing is made from recycled wood and plastics and is available in two colours: Graphite or Dark Brown.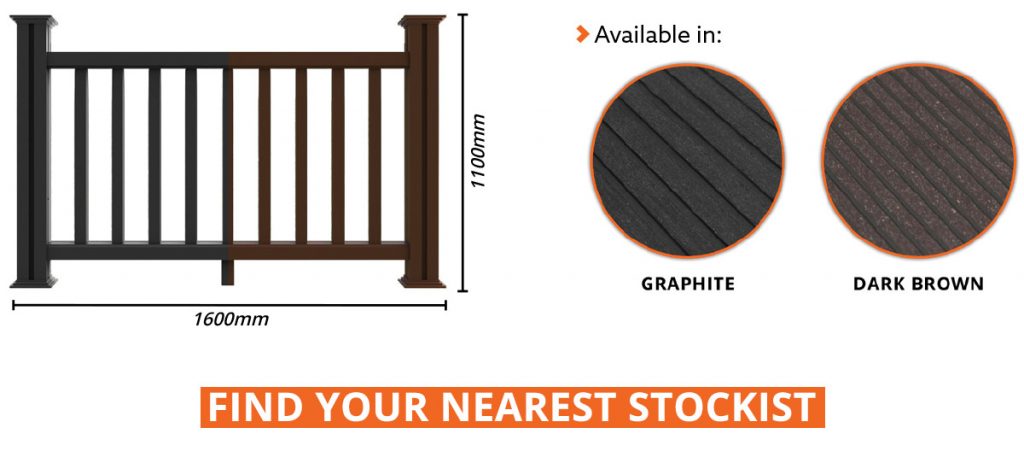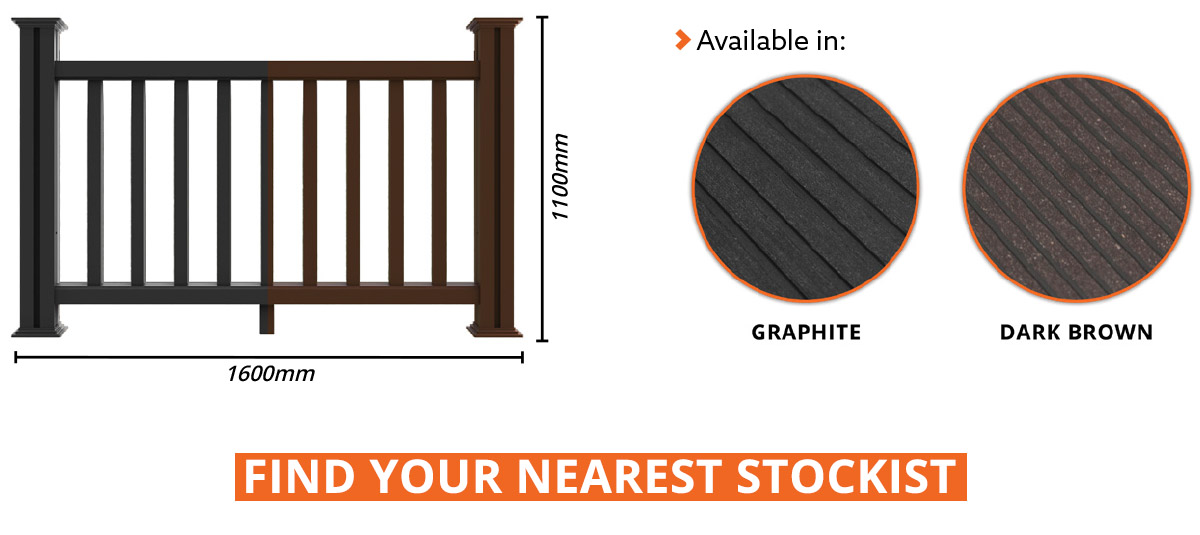 Teranna Composite Railing
Teranna composite railings are a fantastic choice if you're searching for an alternative to traditional timber. They boast low maintenance and high durability features, ensuring guaranteed longevity and an aesthetically pleasing appearance for your decking and rails without the need to repaint or sand the material.
Composite decking and railings ensure the highest quality and levels of safety by ensuring mobility around the deck that prevent slips and falls on the decking.
Teranna railing is also:
Made from recycled materials meaning that they are eco-friendly and good for the environment.
Easy to install so you don't have to pay extra for someone else to do the job for you.
Frequently Asked Questions
⬇️ Q. What type of material is composite railing?

A. Composite railing and posts are a low maintenance material with high durability that ensures longevity in the aesthetic appearance of the decking rails.

All of our decking is manufactured using high density polyethylene or HDPE, and recycled wood fibre which is eco-friendly due to being made from recycled wood and plastics.

You can find out more by checking out our Teranna brochure.
⬇️ Q. What size is the Railing & Posts when assembled?

A. When assembled, the Teranna railing has a width of 1.6m and a height of 1.1m.
⬇️ Q. What colour finishes are available?

A. The railing systems available are standalone or a perfect match for the Teranna decking. To ensure you have the options to suit your home and style, the railings are available in either Graphite or Dark brown.
⬇️ Q. Advantages of Composite vs. Wooden Railing?

A. Composite railing has many advantages over other traditional railing options such as wooden railing. The main advantage of the composite material is that it is extremely low maintenance and durable, resisting all weather and lasting much longer than other materials. No need for painting and staining as required for Wooden railing.

Find out more about the advantages of composite vs wooden railing.
⬇️ Q. How long do composite decks and handrails last?

A. Composite decking and railings are estimated to last more than 25 years if maintained properly and kept in good condition. Wooden railing and other material alternatives will only last up to 20 years, costing you more money in the long run.
⬇️ Q. Are there many parts to the Teranna Composite Railing & Post Kit?

A. There are 3 boxes included in the Teranna composite railing & post kit, containing all of the necessary parts to build the railing from start to finish. This includes:

The Post
The Handrail
The Baluster
The End Cover
The Cap
The Skirt
The Steel holder
The Connections

To find out more about the parts involved in the composite railing & post kit by Teranna, check out our unboxing video.
⬇️ Q. Can I install the Teranna railing myself or would I need to hire a professional?

A. The Teranna composite railing is easy to assemble and can be installed as a DIY project. For guidance on installing the railing, check out our installation video from 04:15 onwards, or share our installation guidelines with your carpenter or decking builder.
For further help choosing or installing the right composite railing for you, contact our expert team at Laydex for support.