WOOD VS COMPOSITE DECKING? Up until recent years, wood has been the standard type of decking used to build everything from a nice feature for the family garden, to public terraces outside bars and cafes. Buyers had become accustomed to the material's swift deterioration and the frequent, tiresome work that's needed to try prolong its already short lifespan.
But we no longer have to accept such shortcomings. Particularly in Ireland, where the weather is notoriously unpredictable and often poor throughout the year, we need a long term solution to faded, rotting wood posing a health hazard to anyone walking on it wherever it might be.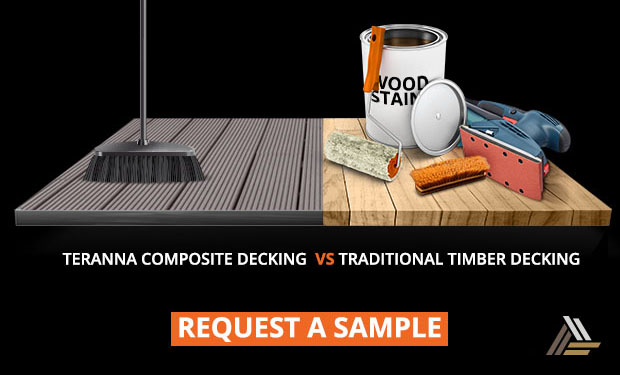 Composite decking is the modern answer to this age-old dilemma faced by DIY enthusiasts and commercial builders alike. Practically every frustration commonly encountered with wood (traditionally timber) decking is lifted with what is known as composite decking, an innovative upgrade that will provide the same high level of enjoyment for years and years.
The Differences in Wood and Composite Decking
Price
The first distinction to make with composite decking is that it will cost more than the same amount of material as traditional wood. Exact price will depend on the brand and product, and the quantity required for the project, but the initial purchase of composite decking will certainly set you back more. And this is the biggest mistake typically made by businesses and homeowners trying to keep their costs down.
Although composite decking is more expensive at first, the time and ultimately money it will save in the long run is what makes it a far more worthwhile investment than a wood based product.
Material composition & Life expectancy: Wood vs Composite
There are numerous reasons for this and many of them are down to the properties engineered to make the decking boards stay in perfect, pristine condition after no matter how much rain and other natural occurrences.
Take the Laydex range of Teranna Composite Decking Boards for example, which includes two varieties of the product and altogether eight stunning color shades. It is made to last at least 20 years – even in our climate! And that is with a minimal amount of maintenance needed to preserve that look of a beautiful, brand new deck.
How is this achieved? It all comes down to how composite decking is manufactured, merging high density polyethylene and recycled wood fiber to produce boards that closely mimic the natural appearance and texture of wood, but offer the enhanced durability of a synthetic material.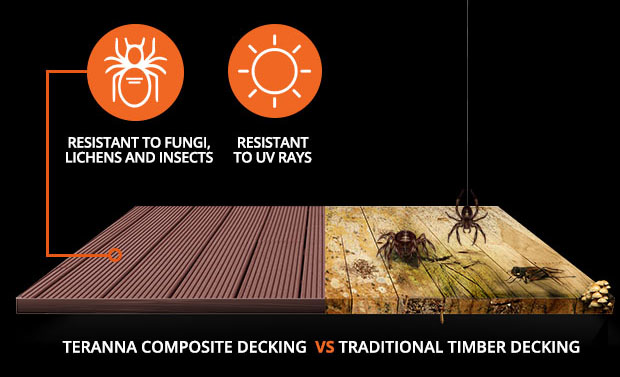 Splinters and cracks
Teranna decking products have the strength and elasticity to support more weight than you would have to worry about, and are made to withstand substantial blunt force impact. There won't be any nasty splinters or cracks to snag your feet – so you, your children and your pets can roam barefoot and free and feel nothing but comfort.
Color fading: Wood vs Composite
Another important element is the UV stabilizer which is added in the manufacturing process of composite decking. This prevents the boards from losing their color or warping over time in the sun. The Teranna range is tested to withstand large temperature ranges, so whether there's a heat wave or a cold snap your deck is in no danger of damage.
Maintenance requirements
The UV filter additive in composite decking also stops the growth of any mould and fungi, which is one of the biggest contributors to timber boards degrading unless regularly cleaned, resealed and repainted. If you use composite decking you should only need to wash it once every spring or summer, or within a week of any food or oil spills, with warm, soapy water and a soft bristle brush. The rest of the time can be spent how it should be – enjoying your splendid outdoor space.
Slip resistance
One of the biggest advantages composite decking has over wood however is its slip resistant surface. Teranna decking is produced to recommended standards for safe flooring, while the grooved, double-sided boards of the Ever-Deck range offer even greater grip. A wet wood deck on the other hand can be as treacherous as an icy road or pavement; an easy way for anyone to seriously injure themselves.
Fire safety
Composite decking is the safer way to go when it comes to fire hazards, too. While timber could quickly ignite and help spread a fire, composite boards restrict this from happening. Teranna Ever-Deck is manufactured to achieve a Class B fire rating.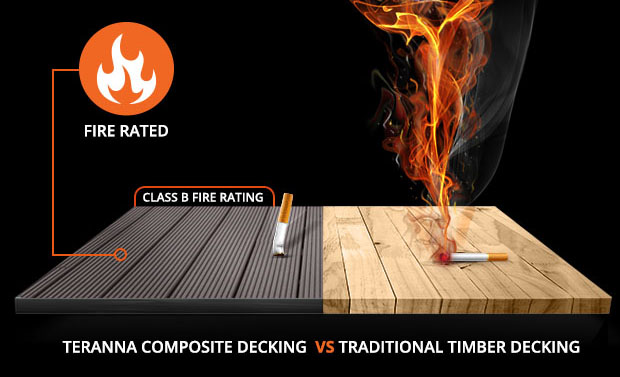 Installation is easy with the right woodworking tools. But be sure to still take the right precautions and get help if you need it.
Refer to our guide for Teranna composite decking and as always customers can contact Laydex for expert support. If you have any queries please email sales@laydex.ie.
The final point we would like to reinforce is the choice of quite breathtaking colors and styles in our Teranna range, catering to every taste and application. Ever-Deck comes in gorgeous Graphite, Dark Brown, Light Brown and Slate Grey. Ever-Shield has a more authentic timber effect, so whether you go for the Silver Grey, Teak, Walnut and Mocha shade you'll still have the classic look of natural wood decking. Whichever you choose is sure to impress and cause envy in equal measure!
All this is achieved while remaining Eco-friendly products, containing no toxic chemicals or preservatives, so even when you finally decide to replace your composite decking it will be 100% recyclable. Teranna Ever-Deck comes with a 10 year guarantee, while for the Ever-Shield range it's 15 years. That's how confident we are that these products will stand the test of time and bring proud, happy memories whatever the setting.
Explore our New Teranna Decking Colours in 2021: