When you find a leak in your roof it can be a worrying time if you aren't familiar with the available roof sealing products on the market. It can also be a costly task to find out that you've purchased a substandard product and then have to purchase another as the problem has persisted.
Wasting time and money on ineffective roof seal solutions can also lead to further damage as when the roof continues to leak, the accumulated water from your leaking roof could lead to further damage and could potentially cause it to collapse.
If you have found a leak in your roof, then worry not as there are a range of superior One Coat Roof Seal products available to repair the roof leak quickly and easily.
Easy Application in Comparison to a Multi Layered System
To save money in the long run, you want to invest in a quality product that is going to last and offer the most protection. Bond It's One Coat Roof Seal product range delivers a high-performance seal that is watertight, permanently flexible and provides an extremely durable barrier coating for all existing roof substrates which is guaranteed to last.
Bond It products require no special training to apply and are a modern alternative to traditional GRP, PU, silicone, and bitumen roof coatings. The Bond It One Coat Roof Seal is available in grey to suit a variety of substrates. The Bond It One Coat Roof Seal adheres excellently to most surfaces, including moist surfaces. Bond It products are rapid curing and emit no odour.
The Bond It One Coat Roof Seal products have been rigorously tested and are proven to be one of the best roof sealing products available on the market, receiving outstanding reviews and performing above many others. There are few products currently offering the same level of outstanding water resistance, self-levelling, crack-bridging, non-shrinking or non-cracking products.
DIY Liquid Roofing Product – No Specialist Training Required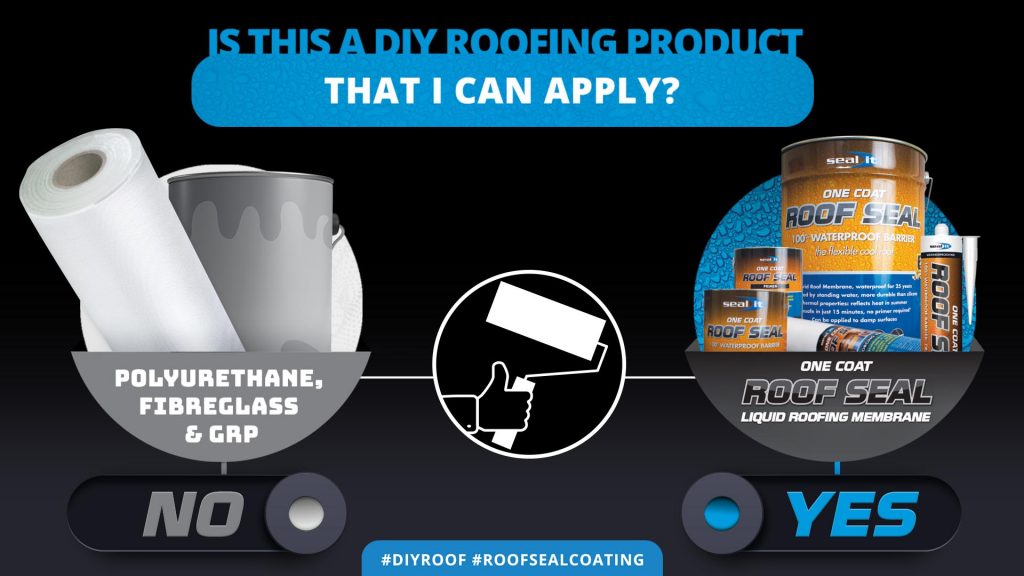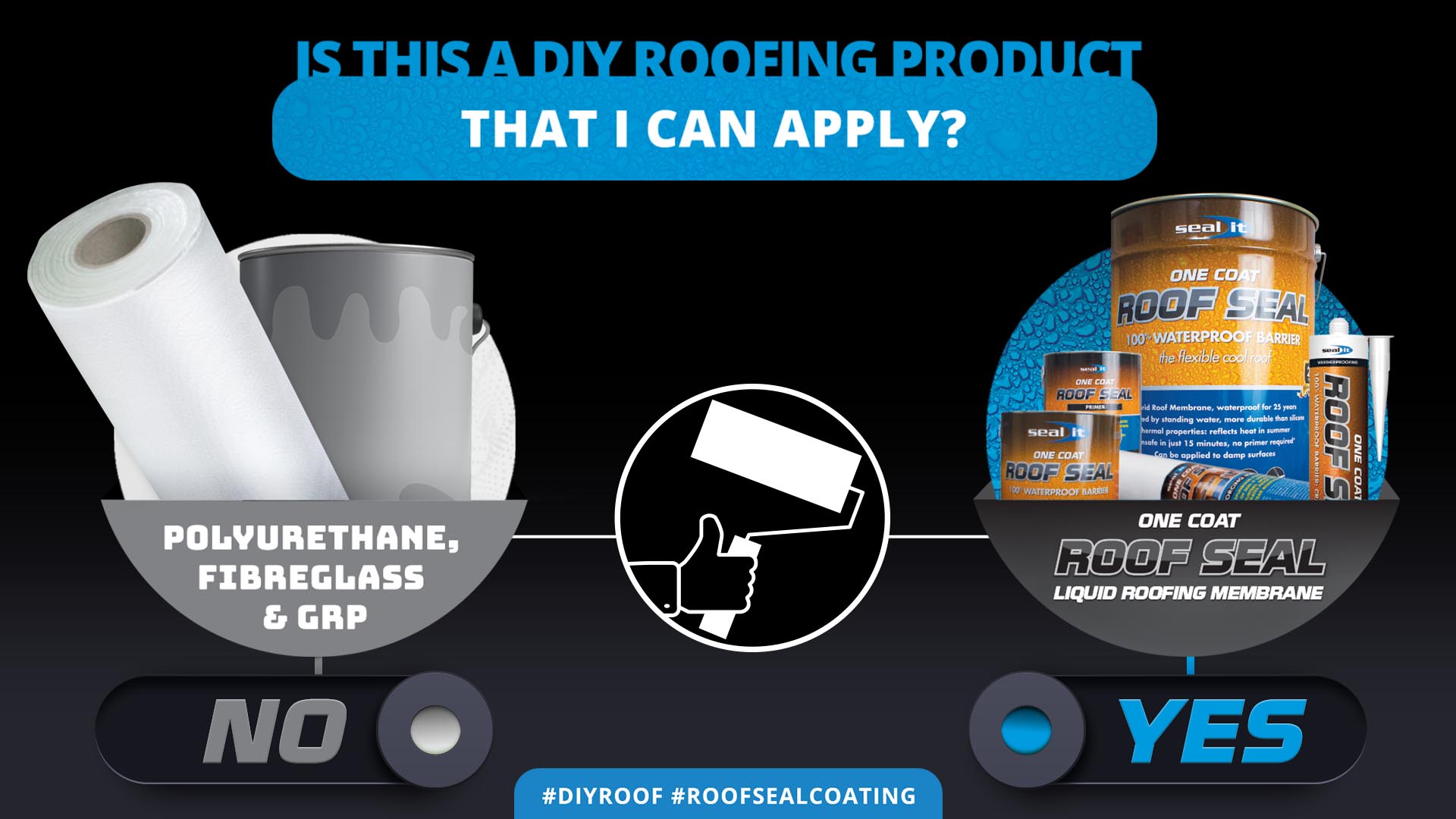 When compared to its main competitors, such as polyurethane, GRP or fibreglass, that require specialist applicators or contractors to apply, Bond It's One Coat Roof Seal is a DIY product that can be applied quickly and easily by anyone, which cuts out the cost of a tradesperson. The DIY roof seal product can be applied in just four simple steps, locate the leak, clean the area, prime only when applying over bitumen and prepare the area around the leak, and carry out the repair using Bond It's One Coat Roof Seal.
All Weather Roof Sealer – Perfect for the Rainy Irish Climate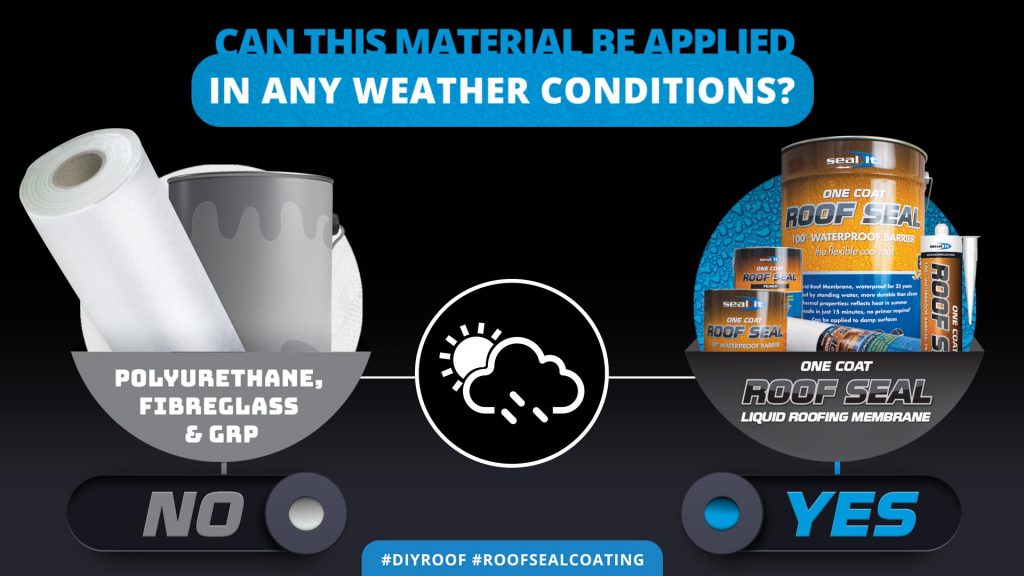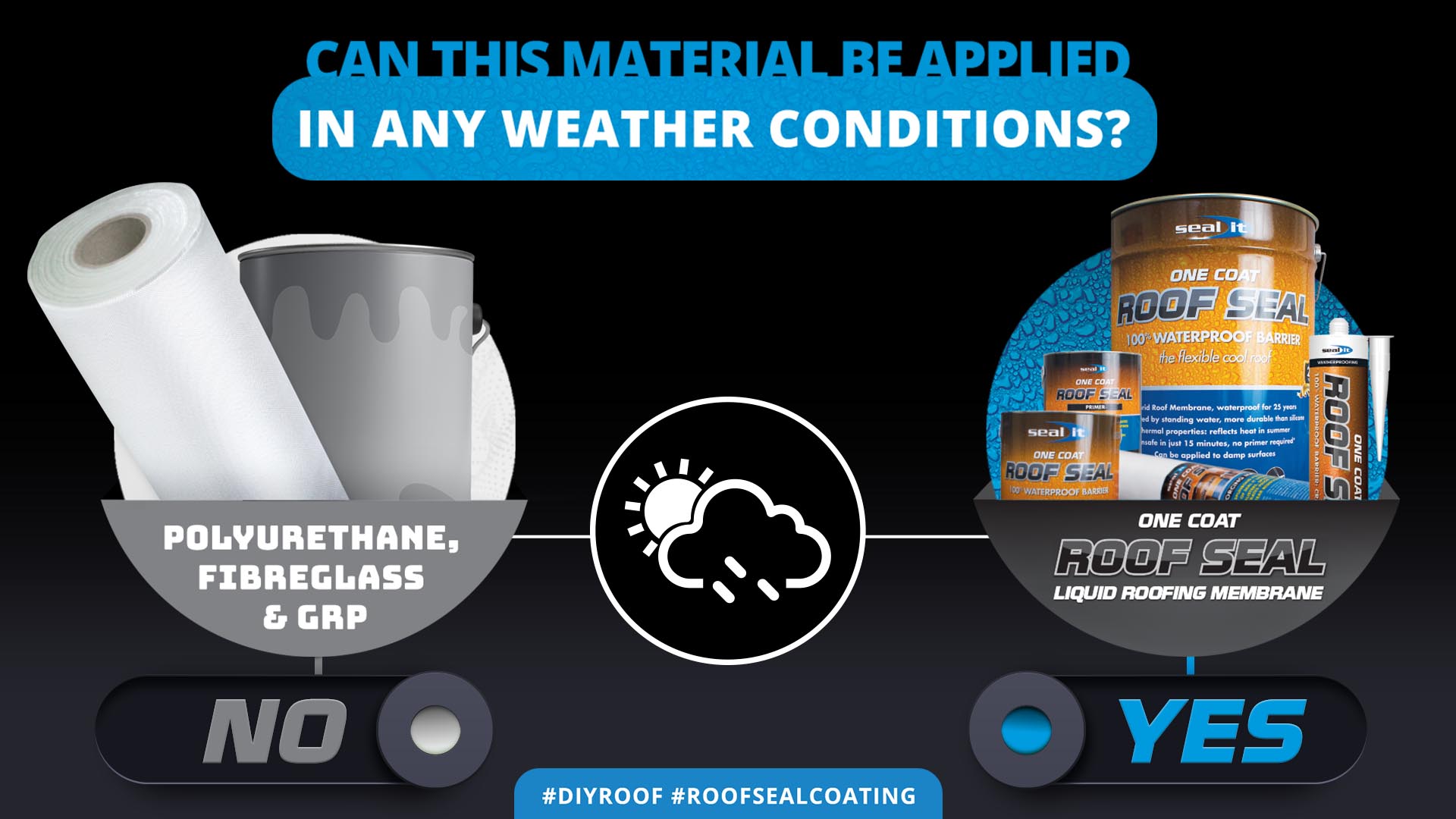 You do not need to wait for perfect weather conditions before fixing the roof leak with Bond It One Coat Roof Seal, as these products can be applied in any weather conditions and are rain safe within 15 short minutes – reducing the chance of additional damage occurring while having to delay taking action. Other products on the market such as polyurethane, GRP or fibreglass must be applied in specific weather conditions on a perfectly dry surface to avoid flaking, and require multiple layers to be effective, including a primer, resin and top coat. This adds on additional waiting times into the process for each coat to cure, and unnecessary weight to your roof structure.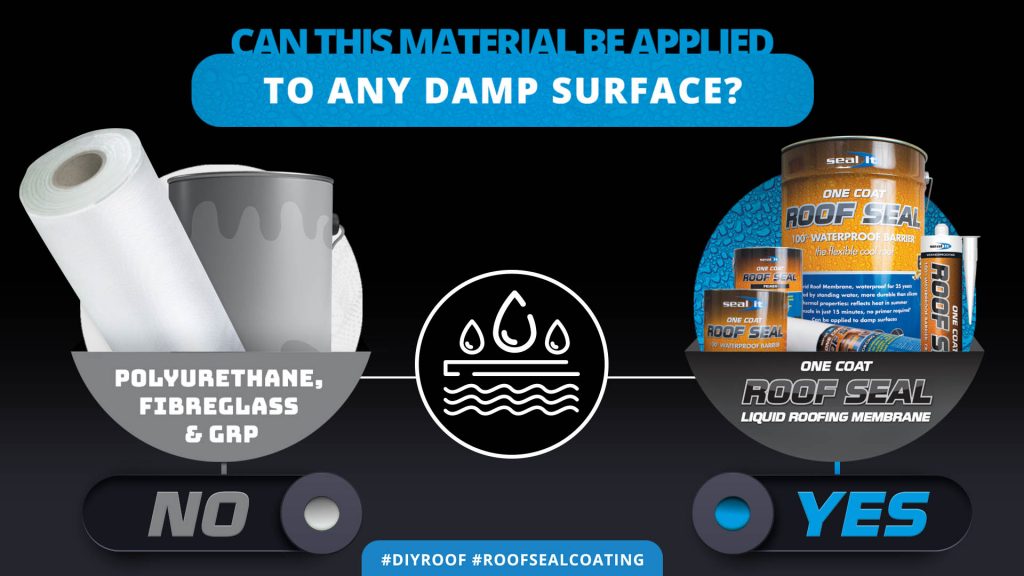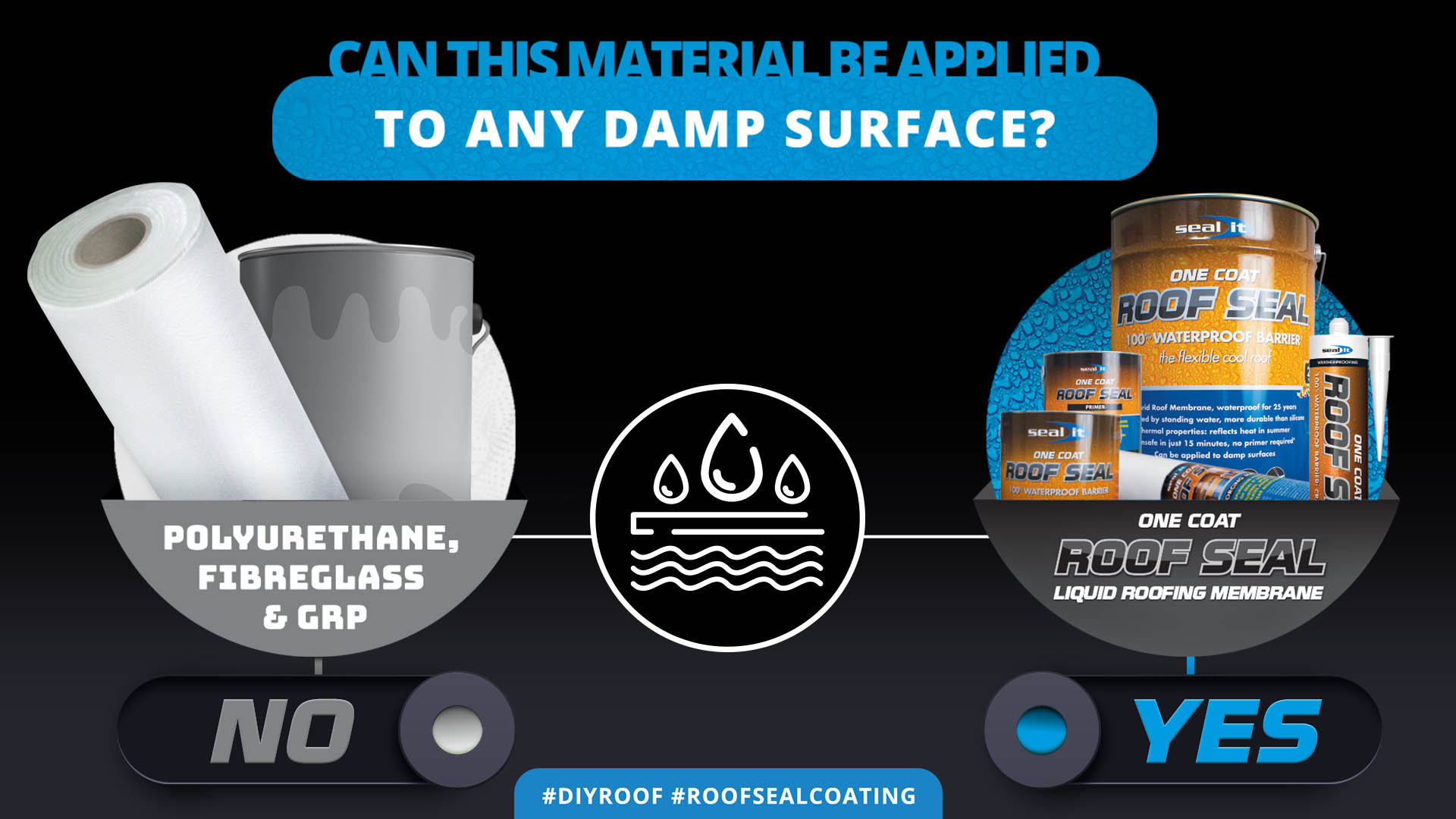 In comparison, the Bond It One Coat Roof Seal products are one part systems that can be applied straight from the tin to the surface of the roof, even if the roof is damp, requiring only one 1mm coat on all substrates apart from bitumen, where we recommend adding a coat of primer for optimum protection against the leak in your roof.
Durability of Roof Sealant
Due to its non-shrinking and non-cracking qualities, Bond It One Coat products do not need to be regularly reapplied like its main competitors such as GRP – which has the tendency to degrade, lose elasticity and wrinkle or crack. Cosmetically, using Bond It One Coat Roof Seal means less work to hide or repair the damage done, as it can be directly painted over and made to look like new, while obtaining the same like-new appearance. This is unlike other roof sealing products which can cause problems when painted over.
If you would like a step by step guide on how to use Bond It One Coat Roof Seal products for a roof leak, check out our recent blog on How to fix a leaking roof.
Technical datasheets and brochures for our range of Bond It One Coat Roof Seal products can be found on our website.