Bond It Bath-Mate Bathroom & Kitchen Sealant
Bond It Bath-Mate Bathroom & Kitchen Sealant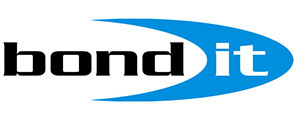 Description
A high quality, water-based sealant with good adhesion to plastic, ceramic tiles and porcelain. Remains permanently flexible and forms a watertight seal to most surfaces. Contains a powerful anti-fungal compound to retard mould growth. Can be painted over, stained or varnished for colour matching purposes.
Uses
Bond It BATH & KITCHEN SEALANT can be used to seal around baths, sinks and worktops, forming a watertight bond to the surfaces. Contains a powerful anti-fungal compound to prevent mould growth. Easy to apply and any mistakes can be easily rectified with water.
Preparation
All surfaces must be clean, dry, sound and free from dust, oil or any other contaminants that may hinder adhesion. If necessary, in addition to mechanical means, cleaning with a solvent such as acetone is recommended for degreasing.
Fast Cure:
Tools within 5 minutes
Skinning Time @ 20°C and 50%RH:
Skins after 20 minutes
Full Cure:
24 hours, dependant on bead thickness and temperature
Waiting Time Before Painting:
1 hour for emulsion paints
24 hours for solvent based paints
Movement Accommodation:
7%
Full Information:
Check out the full datasheet available in the Downloads section!