WIN ROOF SEAL Liquid Coating for Your Roof
Do you own a flat-roof or pitch roof (less than 10°) that needs to be fixed and waterproofed?
Are you looking for an aesthetic alternative to the traditional black torch on felt finish?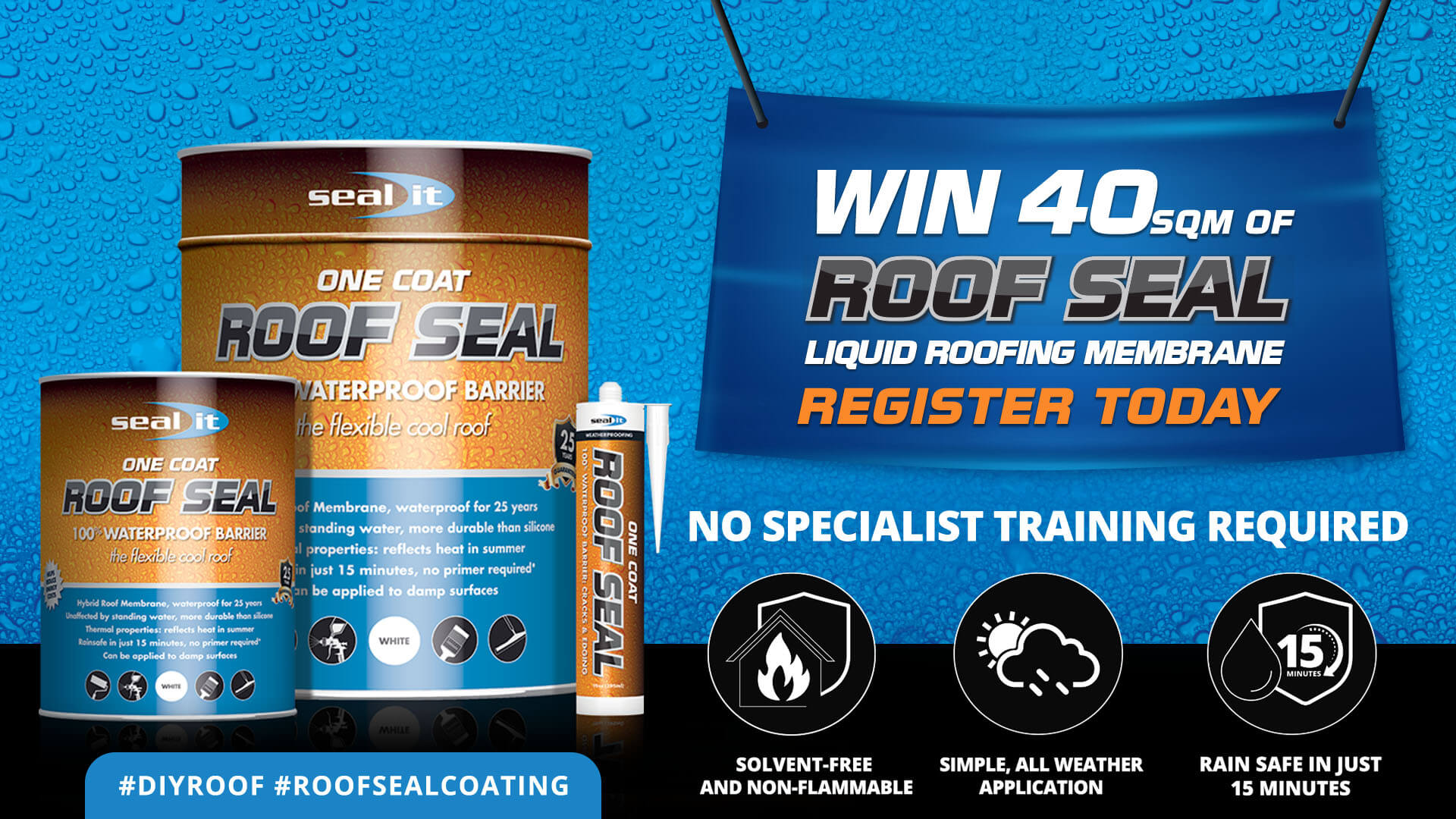 ROOF SEAL liquid membrane is available in an innovative grey finish and requires no specialist training. ROOF SEAL is a DIY roof coating designed for an easy application in only 4 steps.
Enter our competition to win 40sqm of ROOF SEAL Liquid Coating.
The prize includes and is limited only to*:
40L covering up to 40 SQM OF GREY ROOF SEAL MEMBRANE
Ideal for repairing flat roofs, pitch roofs (less than 10°), leaking flashing, guttering and roof lights and cracked roofing panels, chimney stacks, corrugated or plate roofing materials, zinc, steel, fibre-cement and façade panels creating an impermeable seal to repel water damage and provide resistance to degradation from natural weathering like rain, snow and sunlight. Also suitable for zinc guttering, down pipes, ventilation ducts, etc.
1X ROOF SEAL CRACKS AND EDGING SEALANT
The sealer is used to fill cracks greater then 2mm wide prior to liquid membrane application.
*If more accessory products are required, the winner must cover the extra costs. If the winner will be covering bitumen or felt based products, priming is required. The winner commits to collect the prize and proceed with the installation in 2021.

ENTER OUR DRAW to WIN 40sqm of ROOF SEAL coating!
All you have to do is fill in your details in the contact form below and click SUBMIT.
The opening date for entries is 16th August and the closing date for receipt of entries is 12:00 hrs GMT on the 5th September 2021.
The winner will be notified via an email by Laydex team no later than 5 days after the competition closing date. The winner must claim their prize by replying to the email and confirming their name and location within 48 hours.