Laydex is glad to announce that our 

RESITRIX® 

Membrane got shortlisted in the category the Irish Construction Product of the Year!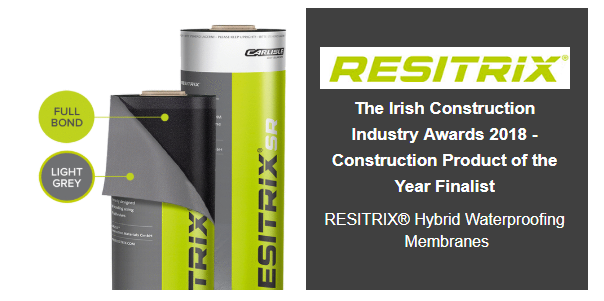 The Irish Construction Industry Awards 2018 will take place on
Thursday, June 14th at the Citywest Hotel, Dublin.
The Irish Construction Industry Awards has established itself as the premier event in Ireland for benchmarking excellence in the construction industry in Ireland. The Irish Construction Industry Awards has recognized on a national scale some of Ireland's leading construction projects and the teams behind them.
About the Construction Product of the Year Finalist
RESITRIX® Hybrid Waterproofing Membrane
RESITRIX® SR is a light grey coloured, self-adhesive, hot-air weldable EPDM waterproofing membrane. Due to the grey colour, RESITRIX® SR offers new aesthetic design options and additionally has solar reflective properties. The Solar Reflective membrane helps to reduce the surface temperature in strong sunlight and thereby protects the building interior from excessive heat build-up.

Benefits of RESITRIX® Membranes:
– Life expectancy in excess of 50 years
– No flames – no fire on the roof
– No shattering effect
– No additional surface protection required: resistant to ozone, UV and intra-red radiation
– Bitumen resistant – ideal for the renovation of bitumen roofs
– Non-slip, even when wet
Find out more about RESITRIX® here.