Why Choose Teranna Composite Decking
TERANNA Composite Decking is a great alternative to timber decking. It will withstand all types of harsh weather conditions and will create a comfortable, attractive external living space. TERANNA decking is slip resistant. It's also splinter-free so relax, kick off your shoes and  enjoy! Teranna decking is environmentally friendly as well; and has the perfect balance of quality and sustainability.
Outstanding Characteristics
Dimensional Stability
Material Safety
Resistant to UV Rays
Non-Slip Surface
Weather Resistant
Ever-Deck Composite Decking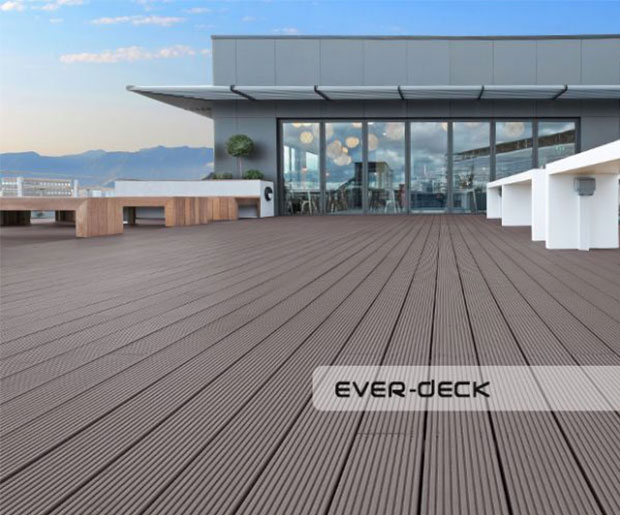 Teranna Ever-Deck is available in 3 standard colours that will cater for all tastes and will create an attractive external living space in your home. It boasts excellent safety characteristics most notably it's excellent anti-slip ratings.
Teranna Ever-Deck comes with double sided grooves and has a very wide range of applications ranging from small balconies and verandas; through to the decks of family homes and large commercial projects such as swimming pools and recreational areas.
The composite technology ensures durability and high resistance to abrasion, external mechanical forces and biological agents such as salt and chlorine. There is no need for any impregnation, and yet Ever-Deck boards won't lose their properties over time.
Non-slip surface BS Standard 7976 part II
Resistant to UV rays
Made from recycled materials
Easy to install
Ever-Deck Composite Decking Range of Products
Ever-Shield Composite Decking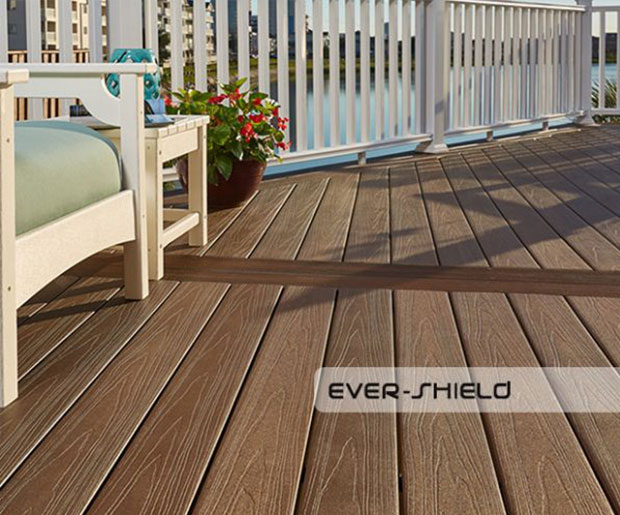 TERANNA Ever-Shield is authentic timber effect decking, which retains its beauty for decades. Slip-resistant, easy to install, reliable, and safe, TERANNA creates outdoor settings where people love to spend time. It's center consists of a unique blend of recycled environmentally friendly raw materials that ensure superior product performance without harming the environment.
Ever-Shield won't splinter or crack making your home barefoot safe. Ever-Deck is also resistant to rot, cracking or insect damage. It requires low maintenance with no need for painting, staining or sealing.
Available in several colors to suit any taste and complement any exterior. Ever-Shield will look like new for years.
Resistant to low and high temperatures and UV rays
Resistant to fungi, lichens and insects
No need for maintenance and painting
Non-inflamatory fire reaction
The shield gives the boards superior protection
Ever-Shield Composite Decking Range of Products