Painting and restoring your shed doesn't have to be difficult. This is an easy, do it yourself project that you can do with little to no experience and some oxide paint. Protecting your shed against elements like water, UV rays, splits and cracks all work to ensure that the finish stays decorative and strong. The wet climate in Ireland means that individuals have to work harder to ensure that their outdoor sheds are well maintained. In addition to the damp environment, UV rays also pose a risk to the appearance of your shed. Even when the weather is cloudy UV rays are at work and contribute to the everyday wear and tear of your shed.
What can you do to protect your shed from Ireland's natural elements?
First, prepare your shed for restoration by cleaning the exterior and checking for any structural damage. Once the structure is secure, you can prime the structure and apply oxide paint to the shed. Always double check for any missing spots. By taking the time to properly go over the shed you are giving the structure more than a fresh coat of paint, you're giving it a longer lifespan and creating a nicer environment for your livestock.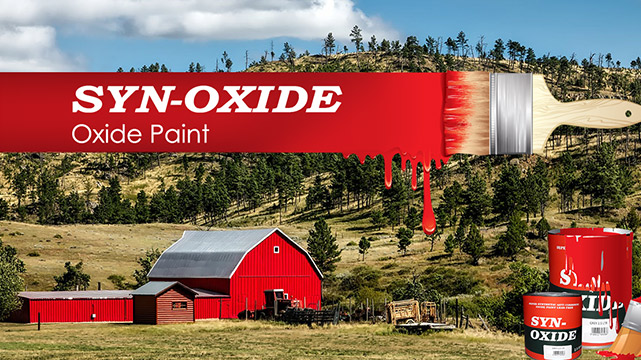 Paint and Restore Your Shed With Oxide Paint
There are three simple steps to restoring and painting your shed: 
Check for any structural damage

. As outlined above, it's crucial to ensure that the shed is structurally sound and to conduct any necessary repairs if needed. There is no point in painting if you'll need to do repairs weeks later.

Clean the surface.

Remove any remnants of old paint that is flaking off, along with dirt, dust, cobwebs and any other debris that could potentially get in the way of the new coat of paint. You want to be starting on a nice fresh surface.

Apply the paint.

Follow the painting instructions to ensure that the paint is applied correctly to the structure. It's best to apply several thin layers to achieve the desired look.  If you apply one thick layer the paint has the potential to drip.
Benefits of Oxide Paints
You can use a range of oxide paints for all structural steel surfaces. These structures include but not limited to sheds, farm buildings, hay barns and any structures made of metal or with iron roofs. Oxide paint is extremely durable and acts as a strong shield against the wet and windy Irish weather. SYN-OXIDE is a lead free oxide paint that helps improve the appearance and functionality of your farmyard structures. Just one litre will cover up to 13 square meters. Proven to work on all plain and corrugated iron surfaces. SYN-OXIDE is available in five classic colours. SYN-OXIDE is also committed to a healthier environment by providing a lead free option for your home improvement projects.
By taking the time to restore and protect your shed with oxide paint can add years of longevity to it.