Laydex is delighted to announce that we have been shortlisted for the Irish Construction Excellence (ICE) Awards for 2020. Founded in 1993, the ICE Awards are the original and premier recognition of performance excellence for the contracting sector in Ireland.

They recognise a wide array of achievements within the construction industry including Innovation in Construction, Commercial & Industrial Projects, Product Innovation, Project of the Year and Health, Safety and Wellbeing.
Renolit Alkorsolar Fastening System not only for solar panel installation has been shortlisted in the 'Construction Product Innovation' category. The category winners will be announced at the Gala Awards Event in The Convention Centre Dublin, on Saturday 28 March, 2020. Fingers crossed!
How is Renolit a pioneer in the solar energy sector?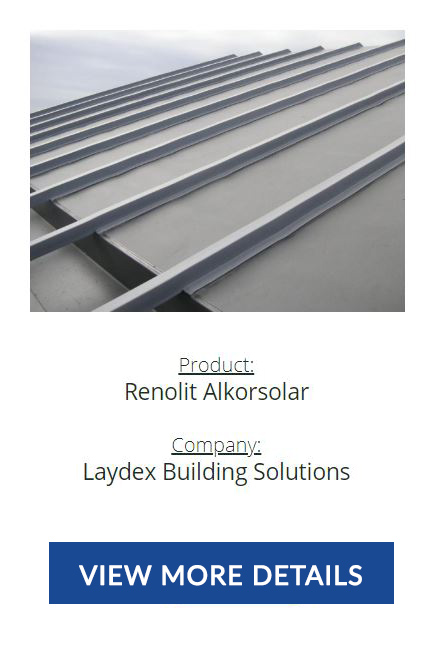 In Ireland, the biggest concern for people choosing solar power is the weather inconsistency. However, even in a bad year, Ireland will still get 70% of the sun that cities like Madrid would get. On top of this, a single 20sq m solar PV system can generate over 40% of a typical Irish home's annual energy demands (Source: Irish Times).
It's not just Ireland
The Renolit Alkorsolar has a distinct fastening system that is perfect for all types of PV installations.
This stops the need for penetrating your  waterproofing membrane to install solar panels. This solution ensures that roofing is fully watertight and leak-free.
For increased efficiency, the Renolit Alkorsolar for crystalline photovoltaic elements with either brilliant white, high reflectance RENOLIT ALKORBRIGHT membrane or our high reflective cool grey or cool ivory RENOLIT ALKORSMART roofing membranes.
It's not just for Solar panel installation either. The versatility of our Renolit Alkorsolar also makes the product the ideal carrier profile for securing cedar shingles, aluminium composite sheets, timber planking as well as trellising for vegetation.
Find out 3 Key Reasons Why The Installation of Flat Roof Solar Systems Are Popular. >>>
Why is the Renolit Alkorsolar a driving force in Construction Product Innovation?
Solar PV is currently the fastest-growing power generation technology worldwide.
As well as this, it is positioned to become one of the most important global energy technologies of the 21st Century.
The Renolit Alkorsolar is the first of its kind within the construction market and acts as a solid solution to avoiding wind removed solar panels, damaged waterproofing, penetrating moisture, increased weight due to ballast and various other effects of poorly fitted solar panels.
The Renolit Alkorsolar is the ideal solution for reliable and long-lasting installation of solar panels on synthetic roofing.
How Does our Fitting Work?
The Renolit Alkorsolar is fused to the roofing membrane using a hot air weld for a fully integrated finish. This provides a securely fixed base and no need for penetrating the waterproof membrane.
Our Renolit range provides you with fast and easy installation as well as low-cost material solutions and top of the range waterproofing methods.
Find out more about our Renolit Alkorsolar Fastening System and REQUEST YOUR SAMPLE HERE.