We're in the midst of summer and if you are lucky you might be enjoying spells of scorching weather where you live. The only downside to that is the need to use more energy on air conditioning if your home is too hot, now is the ideal time to start reducing energy costs before the cold autumn and winter weather is upon us.
Thankfully we are still in that time before the truly bleak weather sets in to do the jobs that will help relieve the severity of those bills now and later in the year. One project you can't afford to put off is waterproofing your roof and for that Laydex has one of the most advanced and efficient products for the job, from the master chemists at Bond It.
Ideal for roof extensions, repairing flat or pitch roofs and virtually all surface materials, Bond It's Seal It Liquid Membrane is a one coat roof sealant that creates an impermeable barrier against all types of harsh weather.
What makes it superior to other roof sealants?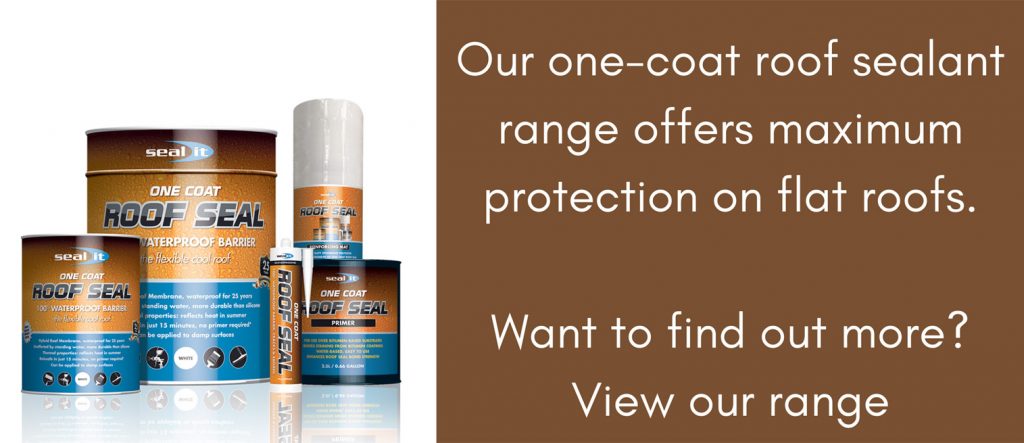 Seal It Liquid Membrane is made with hybrid technology which gives it a modern edge over traditional coatings like GRP, PU, silicone and bitumen. Tests have shown it to have far greater cool roof thermal properties than black bitumen, out-performing it by 36% at just 0.8mm thickness. It's also 11.3% more efficient than solar reflective paint, which will save money on keeping your house cool as the membrane is highly resistant to the sun's rays as well as providing watertight assurance up to 25 years.
The Seal It system will allow your roof and its features withstand the elements to the extreme year after year, and remains permanently flexible so that when surfaces move or expand there is no danger of the coat shrinking or cracking. Available in either white or grey, it will even protect against UV radiation and spillage of chemicals.
Other benefits of Seal It Liquid Membrane are that it's incredibly straightforward to apply, and there's no training needed in order to use it. It's also solvent-free and non-flammable so has added safety for working with it up high, and is applied cold straight from the tin. No extra time or materials for heating or bonding and for most situations the main product on its own is all you'll need.
What kind of surfaces can I use it on?
The product is compatible with all common materials used for roofing substrates and features, with no primer required for adhesion to metal, wood, brick, stone, polyester, glass, lead, tile, plastics, polycarbonate and concrete. With bitumen surfaces and roofing felt, Seal It Primer can first be applied to enhance how well the Liquid Membrane coat bonds and also to prevent the bitumen from staining through after application.
Seal It Liquid Membrane can be used to stop degradation to flashing, guttering, roof lights and panels, chimney stacks, corrugated or plate roofing, zinc, steel, fibre-cement and façade panels, while the brand's Reinforcing Mat and Edging Sealer will help strengthen those detailed areas and fill in small gaps and edges.
When is the right time to apply the roof sealant?

Before beginning application your roof needs to be in the right condition for the sealer to be effective. The temperature outside should ideally be more than 5° and not below 0° on the day of application and for at least a day after in order for the cure process to be smooth.
Use the below checklist to make sure your surface is adequately prepared:
Check the weather forecast as rain and excessive humidity will affect the curing process.
Make sure the sealant product is within 12 months of its date of manufacture and hasn't already been opened before attempting to use.
Details such as intake ducts, air conditioning units, chimneys not in use during or until coat is fully cured.
Brush any pools of standing water away. The surface does not need to be completely dry.
Clean surfaces of oil, grease, dust, debris, loosely bonded coatings or any other contaminants.
Remove any loose materials by brushing, scraping or high-pressure water. Remove an organic growth with a mould wash product.
New concrete and mortars must be at least 28 days old.
Avoid any foot traffic over the coat while it is curing.
Uneven masonry surfaces should be filled and leveled, along with any cracks wider than 2mm. Small cracks can be filled using Seal It Edging Sealer, while for wider gaps you can use the Reinforcing Mat. This also applies to minor damage such as blisters, tears and missing material.
Cover any areas that don't require coating in case of damage or contamination, particularly if applying by spray.
Seal flashing details, joints, cracks and seams with Seal It Edging Sealer to ensure a watertight finish.
With all of this criteria met you are ready to begin either with Seal It Primer for bitumen or felt based roofs, or straight to your single coat of the Seal It Liquid Membrane. After a thorough stir in the tin it should be applied immediately as it will begin to cure when it comes into contact with the air. You can use a brush (longer bristle brushes for rough substrates) short pile roller, trowel, spatula, squeegee or industrial spray equipment to build up a minimum of 2mm thickness for sufficient protection.
How much of the product will I need?
First measure the size of the area you need to cover in square meters. For every 1m² you will need 1L of Seal It Liquid Membrane for 1mm thickness. However you will need twice this amount in order to build up the optimum 2mm thickness. So make sure to purchase enough! Both the grey and white varieties come in 5L and 20L volumes so you can get the right amount for the job.
Have you got a roof that needs reinforcement? Don't wait until the damage is done, pre-empt the leaks and other problems developing, while avoiding turning the building into a greenhouse with other products. Inquire about our Seal It roof sealant range today instead and we can provide the expertise to advise on what you need and getting the job done right.