Although the weather in Ireland is always unpredictable, summer is still the time to make sure that our roofs are ready to take on the threat of more frequent rainfall and increased storm activity during the Autumn and Winter months.
Inadequate or badly installed waterproofing solutions will quickly lead to a leaking roof or water ingress damage to any building which is a far more expensive issue to address after the fact.
The solution is using a reliable product for waterproofing your property's most important structural asset, The Roof,  including outdoor related features from pipes and gutters to balconies, stairways and terraces, and installing it in time to enjoy stress free decades.
What is liquid waterproofing?
Liquid waterproofing involves applying a specially engineered solution to a range of roofs and exterior building surfaces creating a seamless protective coating, or "membrane". When installed correctly and looked after, products such as Liquiflex-Pro can provide virtual immunity from the elements for 25 years and more.
Installation may differ slightly between products and projects, but generally systems are applied using a roller or brush and don't require electrical tools or machinery, making the job easy and convenient particularly for areas with very limited space or access. Cold applied liquid waterproofing is even more efficient as it goes onto the substrate straight from the tin, eliminating the need for heat to be used like with torch-on membranes or hot air welded membranes.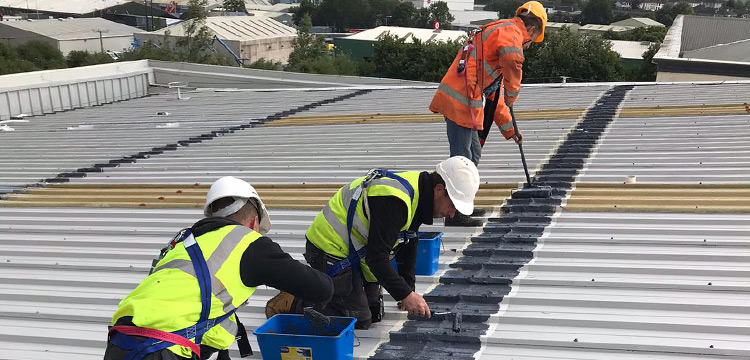 What are the benefits of using Liquiflex Pro for waterproofing?
Created by roofing specialists Rubberseal, Liquiflex-Pro is THE preferred system of our approved installers.
It has been made specifically with climatic conditions like ours in mind. By that we mean the liquid can be applied to damp substrates, therefore,  you don't have to wait for a dry weather spell, and is instantly RAIN RESISTANT. The moisture in the atmosphere starts the curing process the second it comes into contact with the intended surface and in 24 hours or less, the membrane is fully cured. Since it's a wet-on-wet system there's no need to wait on each layer to cure before adding another.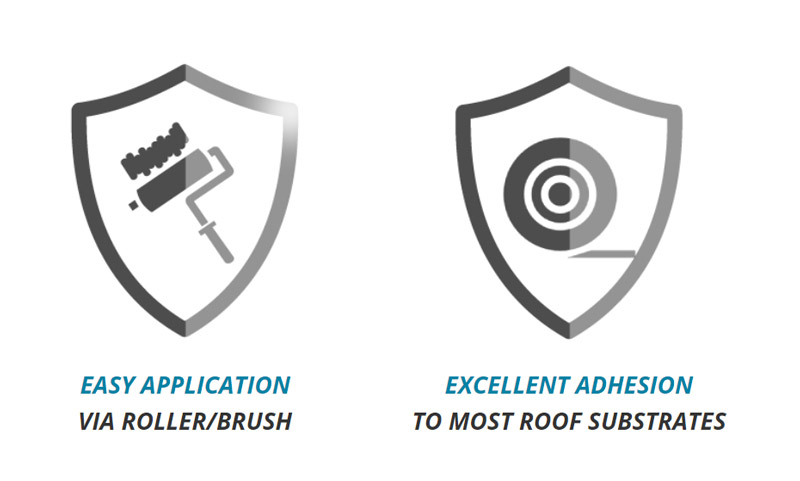 The unique selling point and major advantage that Liquiflex-Pro has over some of its competitors is that installing it can cut down the time and costs for due to the fact that the primers already exist in the membrane, as opposed to products which don't have them blended in and therefore need substrates to be pre-primed for the membrane to properly bond.
Liquiflex-Pro works immediately with almost every type of roof material; only concrete and porous surfaces will still need to be primed and most existing coverings won't need to be removed, avoiding a further expense plus environmental harm through disposal.
In fact, there is minimum waste created with Liquiflex-Pro as it's a single liquid product – no separate elements to combine each with their own containers to get rid of. There is even an eco-version available which produces low odour, making it more suitable to use on occupied buildings.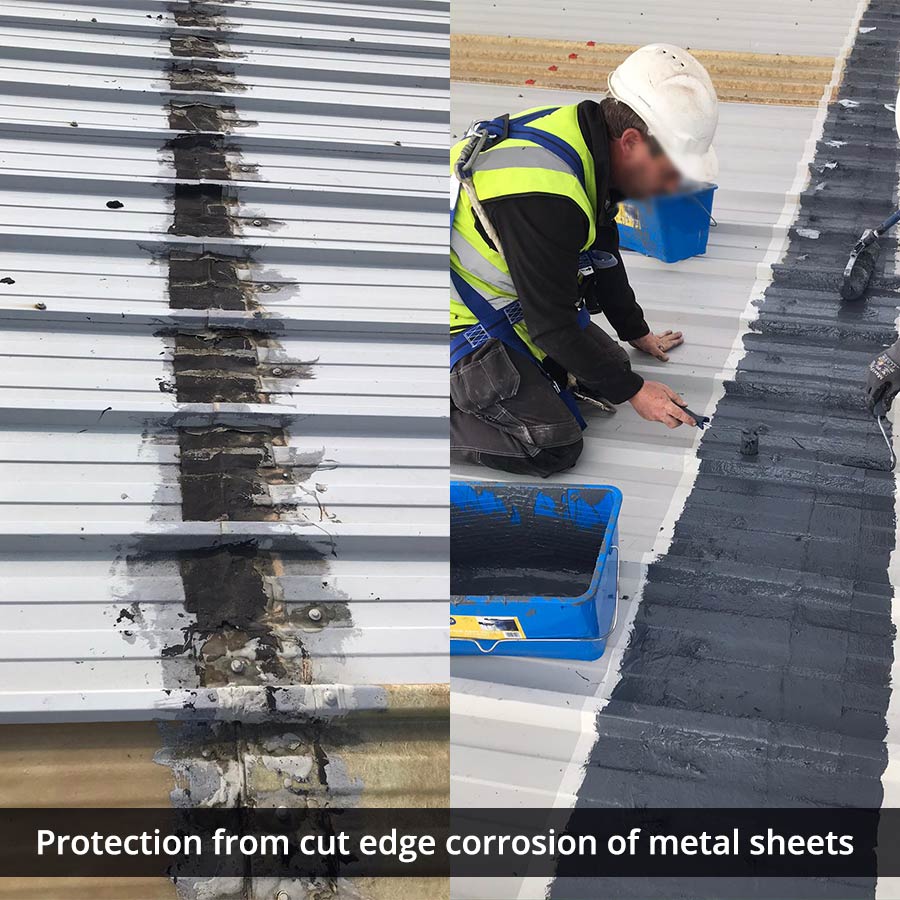 When you should use Liquiflex-Pro for liquid waterproofing?
 Liquiflex-Pro has a reputation for its versatility when it comes to adhesion, as it's the perfect solution for many different types of waterproofing projects. Due to its ease of use and other qualities it has been found to be hugely effective for those trickier roofing details (pipe penetrations, upstands, gutters) as well as balconies, terraces and patios.
 Whether you are refurbishing or working on a new build the Liquiflex-Pro range will help extend the lifespan of the vast majority of roofs. Below we've listed more applications for waterproofing with Liquiflex-Pro.
Built-up roofs
Overlay roofs
Ballasted roofs
Green roofs
Asbestos encapsulation/asbestos roof recovery
Metal roof refurbishment
Gutter linings and detailing
Walkways
Areas with electrical wires and torch-on restrictions, for example historical buildings
Protection from cut edge corrosion of metal sheets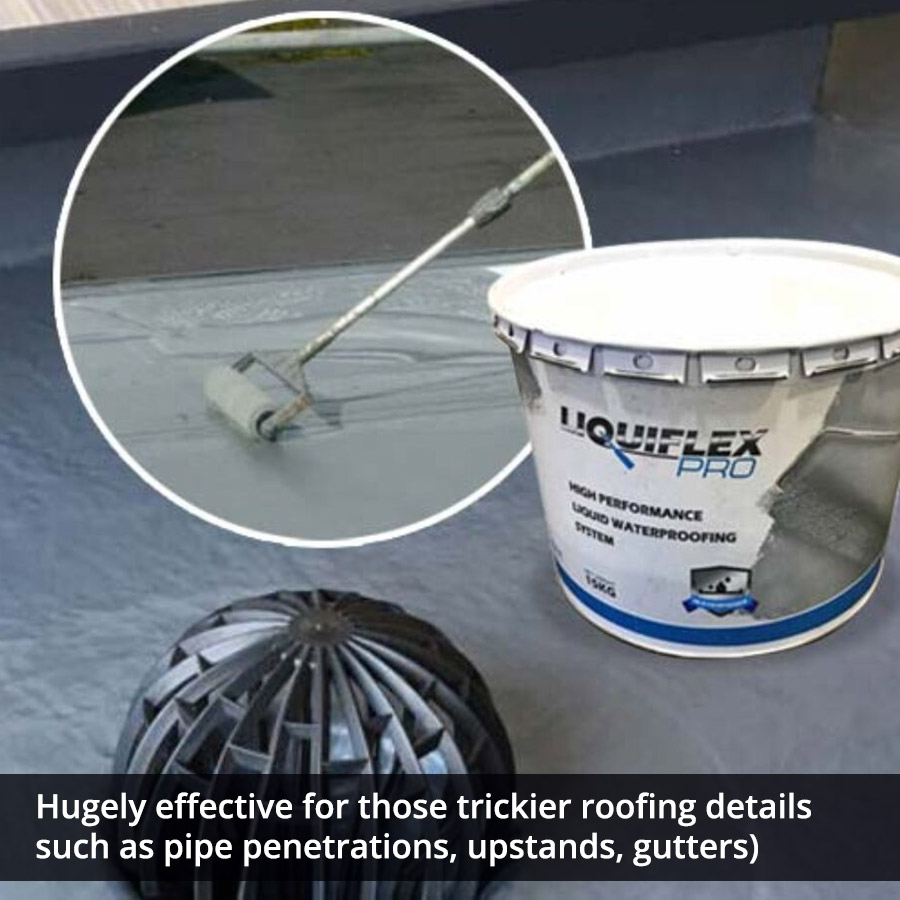 If you are unsure whether the product is right for your project you can always speak with a roofing specialist from Laydex for expert advice by phoning 01 6426600, emailing sales@laydex.ie or sending a message to us via our contact page.
 What varieties of Liquiflex-Pro are there?
Liquiflex-Pro isn't just offered in one single strength that's expected to suit every warm and cold roof customer. There are three systems which will provide the optimum degree of protection for different spans of time due to the methods used to apply each.
Liquiflex-Pro 15 consists of two embedment coats of Liquiflex-Pro reinforced with Liquimat CSM, ensuring at least 15 years before having to look at waterproofing again.
Liquiflex-Pro 20 will extend the substrate's life for even longer, adding a UV resistant Liquitop coat on top of the Liquiflex-Pro 15 system.
Liquiflex-Pro 25 is the premium option, offering the ultimate defence for structures by adding an extra layer onto the Pro 15 system and Liquitop for the full 25 years of high performance.
If you would like to make an enquiry or order a sample of Liquiflex-Pro, or need guidance around cold applied liquid waterproofing then visit our website and get in touch. We'll help you get home and dry!