Fire Rated, Slip Resistant and Easy-to-clean Composite Decking for Commercial Spaces
Composite decking is a modern and arguably improved alternative to timber decking. Composite decking is growing in popularity for use in commercial buildings such as bars, cafes and restaurants. Due to the hardwearing nature of the man-made materials in composite decking including wood and plastic fibres and bonding agents, it makes it perfect for outdoor areas which have a high footfall such as decked areas linked to commercial spaces.
Highly Slip Resistant
As well as being fire resistant, composite decking is slip resistant. This is very important in a commercial setting to help ensure that customers and staff are safe on site. All of the Terrana composite decking range has slip-resistant technology incorporated into their design which has led to them achieving anti-slip ratings. This makes composite decking the perfect flooring choice for outdoor commercial space.
Teranna Composite Decking is Fire Rated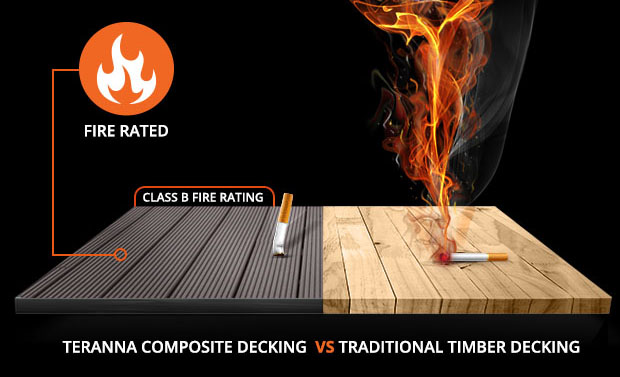 Teranna Composite Decking in commercial spaces is highly advantageous when compared to timber decking as it has a high fire resistance rating. It is made of fire safe materials which allows a Class B Fire Rating to be achieved. This helps commercial property owners breathe a sigh of relief. This high fire resistance rating is very important in the hospitality industry in particular as even if lit cigarettes were to land on the composite deck, there would be no flame spread.
Low Maintenance in Comparison to Traditional Timber Decks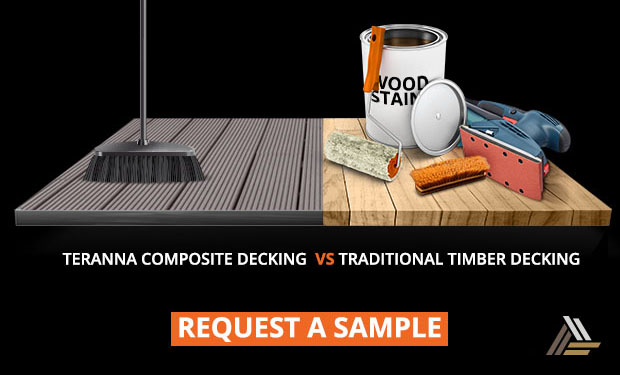 Composite decking is low maintenance which helps to cut down on maintenance costs in terms of time and money when compared to traditional timber decking. Timber decking regularly requires maintenance for splintering and weather proofing. Timber decking maintenance also typically involves staining and varnishing, which leaves the outdoor area out of bounds for some time. It is factors like the latter which shows how beneficial composite decking can be in a busy commercial setting, as little to no maintenance is required!
Composite Decking is Insect and Weather proof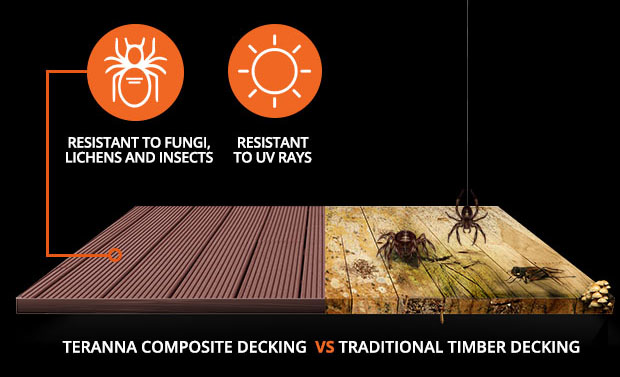 On the rare occasions when Ireland receives warm and sunny weather, composite decking is resistant to warping and therefore can withstand all weather conditions. When it comes to other natural impacts associated with decking being installed outdoors, such as the impact of insects, composite decking proves to be more durable than timber decking which often falls foul to insect infestations. In fact, composite decking is also fully resistant to corrosion, moulds and fungi. A composite deck is much easier to keep clean when any inevitable food or drink spills occur in a commercial environment.
Durability of Composite Decking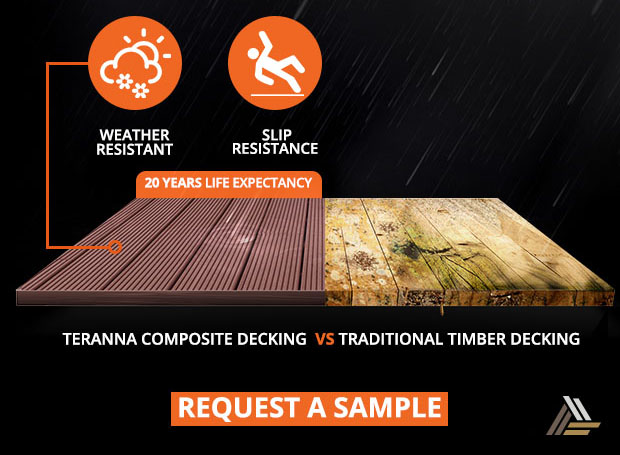 Composite decking is becoming increasingly popular in Ireland due to the harsh and rainy weather conditions that the region experiences throughout the year. These harsh weather conditions are known to cause rotting in traditional timber decking, but composite decking solves this problem. As composite decking does not rot and is not easily affected by damp conditions, it is advantageous to install it in an outdoor patio area as you can expect it to last 20 to 30 years!
Various Composite Decking Styles Available
Composite Decking comes in a variety of styles and colours to suit a range of tastes and it has the ability to create a wow factor in a commercial area. Teranna Ever-Deck Composite Decking has a contemporary design with grooves providing excellent anti-slip ratings and a range of colours available, which can enhance the look of outdoor spaces in commercial settings. Alternatively, if you prefer a more traditional wooden look, the Teranna Ever-Shield Composite Decking Range is the perfect choice. With a range of colours, styles and anti-slip ratings across the Teranna Range, we are confident your composite decking needs and wants can be met.