ALUTRIX High Performance Self-Adhesive, Cold Applied Aluminium Vapour Barrier
Characteristics:

Self-adhesive
Cold applied
Vapour proof
Very high tear resistance
Withstand foot trafficking on profiled metal decking, without puncturing
Create an airtight seal, complying with Part L of the energy conservation regulations
Highly resistant to ageing
Chemically stable
ALUTRIX® 600 and ALUTRIX® FR can be bonded with complete confidence at ambient temperatures of + 5 °C
ALUTRIX® 600 achieves a Class 0 fire rating to BS 476 Part 6
Reduced fire load – ALUTRIX® FR has a calorific value of ≤10,500 kJ/m2 and complies fully with fire protection requirements for reduced fire load vapour barriers, according to DIN 18234 and national regulations.
ALUTRIX® FR complies fully with FM Approval Standard Class No. 4470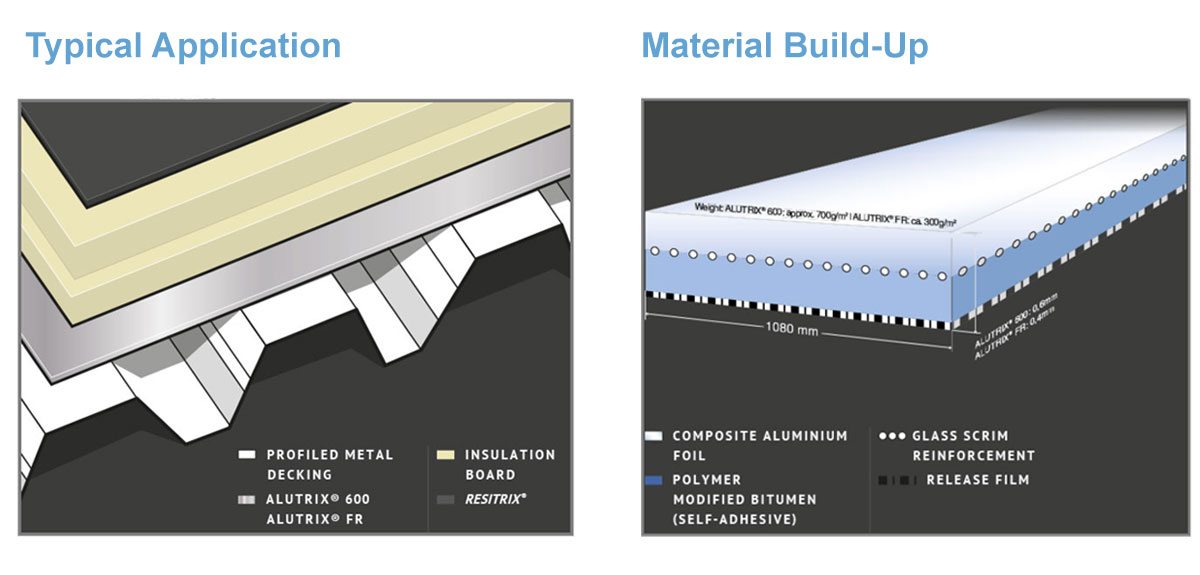 SUBSTRATE TYPE
ALUTRIX® 600
ALUTRIX® FR
FG 35
FG 35
Coverage/
Consumption
Installation
information
for surface
adhesion(*)
Metal Decking:
Galvanized or uncoated
Yes
Yes
Yes
50%/100g/m²
Plastic-coated
Yes
Yes
No
—
Plywood/OSB
(timber-based products) (**)
Yes
Yes
Yes
50%/100g/m²
Concrete
Yes (***)
No
Yes
50%/100g/m²
Bituminous Substrates
Yes
Yes
Yes
50%/100g/m²
(*) For mechanically fixed or ballasted roofing systems, priming the roof surface is not usually required.
(**) On panels more than 500mm wide while where movement may be anticipated, install non-adhesive tape strips over the board joints.
(***) Only on dry, smooth and clean concrete materials. Mechanical damaged or perforation by exposed aggregated must be avoided.