Laydex is Giving Out €150 for the Best Photograph of a Newly Installed Teranna
Having a new Teranna deck?
– Take a pic and get a chance to win €150!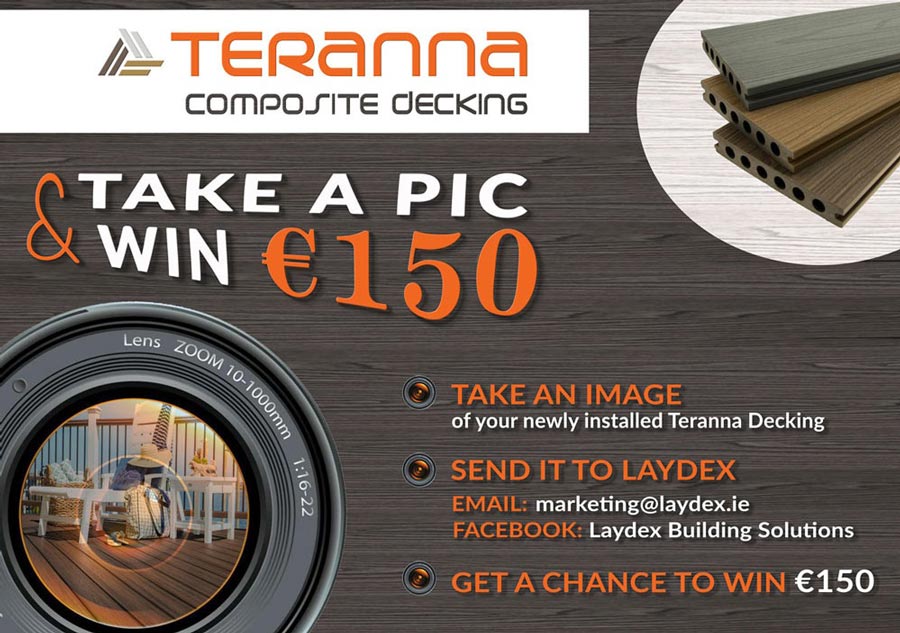 Teranna  Contest  RULES :
1. CHOOSE TERANNA AND INSTALL IT
2. TAKE AN IMAGE of your newly installed Teranna Decking
3. SEND IT TO LAYDEX together with your Name and Location
Email: marketing@laydex.ie
Facebook: Laydex Building Solutions
4. CONTINUE TO ENJOY your time on your new Deck
5. WAIT FOR 17 October when the WINNER will be announced
Please note:
Teranna Contest ends on 17 October 2018
Winner will be announced on our Facebook Page
All images will be printed out and we will be placed in the box
We will select the winner randomly
Can you imagine your decking in Teranna Brochure?
–       By entering the contest you agree to Laydex using your images for marketing purposes
______________________________