Bond It Dust Proofer & Hardener
Bond It Dust Proofer & Hardener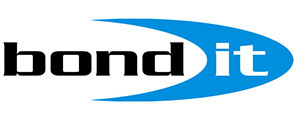 Description
A premium quality, chloride-free, low viscosity liquid that penetrates and chemically seals concrete. Produces a hard wearing, non-dusty surface. Suitable for use on garage, warehouse, factory or workshop floors.
Application
Gloves, boots and goggles should be worn at all times during application. Ensure all surfaces are clean, dry and free from oil, grease, paint or polish to maximise the effectiveness of this product. If in doubt use Bond It BRICK & PATIO CLEANER to remove any stubborn stains before washing down and applying Bond It DUSTPROOFER & HARDENER. Apply uniformly using a brush at the rate of 3-5m2 per litre ensuring puddling does not occur and using a firm action to work the product well into the floor. Allow the first coat to cure overnight before applying a second coat, which is normally sufficient for most floor types. Further coats can be applied, allowing the previous coat to cure before application, remembering to leave at least 24 hours before washing down.
Flammability:
Non Flammable
Solubility in water:
Soluble
Appearance:
Colourless liquid
Full Information:
Check out the full datasheet available in the Downloads section!