DAMTEC® – Your ECO Sound Choice
With over 250.000 square meters installed in Ireland, Damtec is the market leader in sound impact insulation.
All our DAMTEC products  comply with Technical Guidance Document E of the Irish Building Regulations.
DAMTEC Standard products are intended for use directly under floor coverings as a means of reducing the impact sound transmission between floor levels. These products can be either loose laid or adhered and come in standard thicknesses of 3mm, 4.5mm and 6mm.
KRAIBURG Relastec have carried out independent testing in accordance with EN ISO 10140-3 on the weighted reduction in impact sound pressure level and rated the subsequent results according to EN ISO 717-2 to evidence compliance with Technical Guidance Document E of the 2014 Irish Building Regulations which amongst other criteria demands a weighted reduction in impact sound pressure level of 17dB minimum.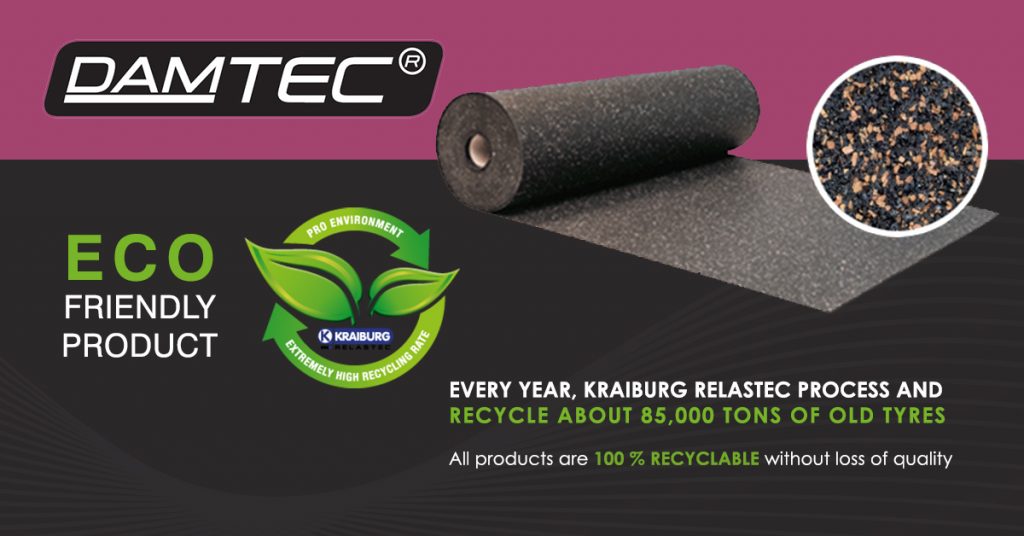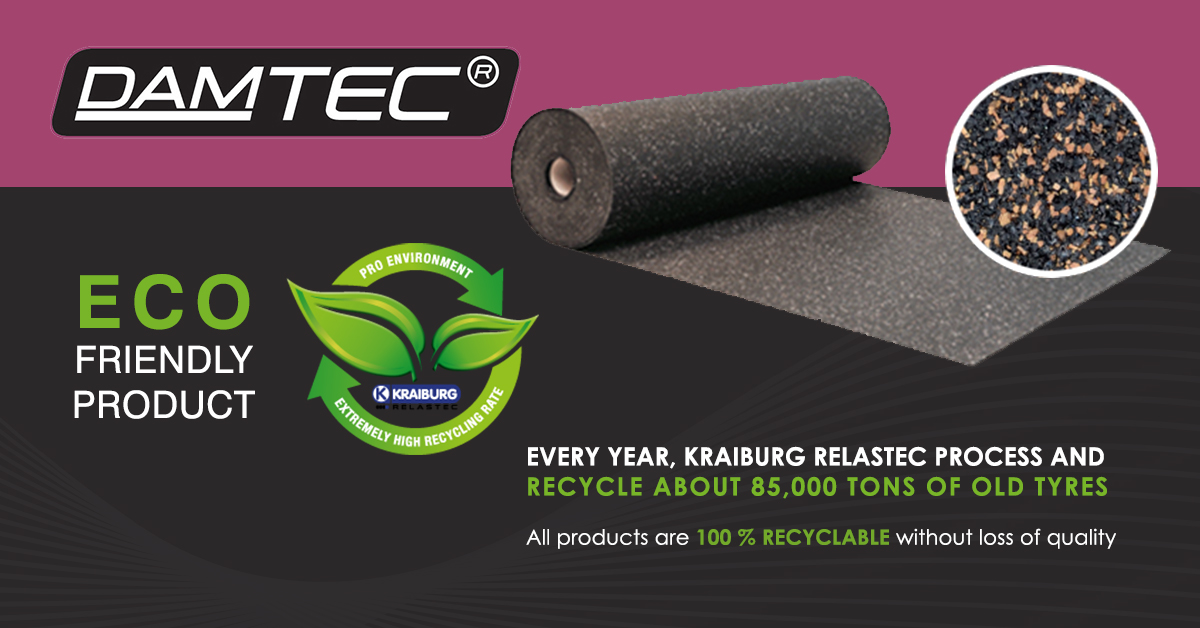 PRO ENVIRONMENT – ECO FRIENDLY PRODUCT
As a recycling specialist, KRAIBURG Relastec have for many years been committed to the protection of the environment. Every year, we process and recycle about 85,000 tons of old tyres, closed-cell rubber and rubber production scrap. From these raw materials, we produce high-quality granules based on our internally developed formulations. These granules make up more than 90 % of the material used in our finished products. All our products are 100 % recyclable without loss of quality.
Protecting the environment is part and parcel of what we do every day!
DAMTEC® Advantages and properties

outstanding structure-born sound insulation (impact sound deadening / vibration absorption)
reduction of structure-born noise protects the basic structure of machine foundations as well as of engineering works from buildings to bridge constructions
good inside dampening behaviour with optimal performance in the low frequency ranges ("droning noise" barrier)
low dynamic stiffnesses and optimal natural frequencies / resonance frequencies
increased noise control / sound proofing with minimal additions to the overall floor height

Clicking Sounds

eliminates hollow clicking sounds and reverberations (floor to ceiling noise) under hard floor coverings
Moisture Resistance

superior resistance to moisture absorption and rot degradation
Durability

superior resistance to moisture absorption and rot degradation
Thermal Conductivity

excellent thermal conductivity, ideal for use with underfloor heating or cooling systems
•
can be used over a wide service temperature range
Environmentally Friendly

environment-friendly (made from recycled crumb rubber, can be recycled again)
•
low emissions (many products with GEV Emicode EC1 / EC1+)
Strenght

outstanding load-bearing performance provided by extreme compressive strength
•
permanently elastic, even after years in use no no reduction of structure-borne sound isolation
•
low dynamic stiffnesses and perfect natural frequencies / resonance frequencies