Roofs can be put into two categories: flat or pitched. The structure and materials used are different, but they have some common enemies.
Whichever type of roof you have, it is going to require some care over the years to protect it and ensure it protects the structure from the elements. In Ireland's damp climate, leaks are a big concern and the high winds we experience can indeed cause swift and dramatic damage. But it's the more slow and insidious types of damage we have to watch out for – namely algae and moss.
Both algae and moss can grow easily on roofs in our wet, mild climate, and both do damage. However, moss is the more serious of the two. It grows in the cracks between roof slates, and as the moss grows it pushes the slates out of position which causes further damage.  Moss can also clog up a building's gutters and downspouts. Algae can fuel the growth of moss, and it can damage the surface of slates, causing more problems. Whether you have a flat roof, or a pitched roof, you want to ensure that moss, leaves, or algae does not get out of hand.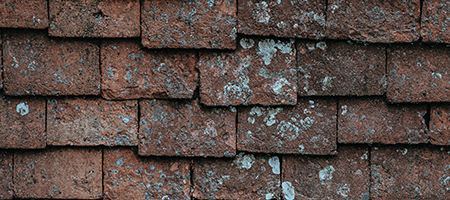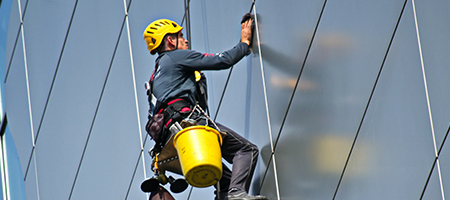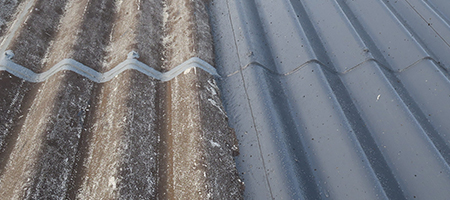 Pitched Roof Maintenance
Most houses have pitched roofs covered with slates. There is a high risk of falling, thus it is important to understand the dangers of the environment. Cleaning a pitched roof is best left to professionals with the correct equipment to ensure their safety. Chemical cleaners are the most popular choice. This is due to the old approach of scrubbing slates being not only ineffective and labour-intensive, but it also causes wear and tear on the slates, shortening their lifespan.
Homeowners should do a visual inspect of their roof quarterly to watch for moss, algae or damage. Wind can batter any roof, loosening slates. Even in Ireland, the sun can dry out slates over the years, leading to cracks and breakage. It is integral to replace damage slates as soon as possible because they allow damp and cold in, and they are also at risk of falling. A falling slate poses a danger to anyone walking past.
Flat Roof Maintenance
Newer office and commercial buildings often have flat roofs, and many older homes have flat roof extensions. While a flat roof is a safer place to work than a pitched one, it does not follow that cleaning one is a DIY job. Flat roofs are covered in materials that are vulnerable to damage by shoes and boots. Again, professional roof cleaners will have the right equipment to do the job without damaging the roofing material or endangering anyone. It is not very easy to stand outside and do a visual inspection of a flat roof from the ground. With this in mind, building owners and managers should monitor how well the gutters and downspouts are functioning and inspect the ceiling of the building's top floor for any signs of dampness.
In the event of a leak, the exterior damage might not be directly above the spot water is entering. Water can travel along a board or pipe between the exterior roof and the ceiling. Having professionals clean and inspect the roof annually and after severe storms can help detect any damage to the roof early before the damage spreads inside. It also prevents the accumulation of algae or moss on the roof.