Roofers, back to school! Resitrix® Training Day with Stewart Orton (Carlisle Construction Materials)!
RESITRIX® ROOFING SYSTEMS & LAYDEX BUILDING SOLUTIONS in association with "CARLISLE® Construction Materials Ltd" are organising the Installation Training Day on Tuesday 26th Sept 2017 and Wednesday 27th Sept 2017 at the Laydex office in Dublin. Feel free to attend and see what RESITRIX® means: fast and easy installation of high performance roofing membranes that are sealed for a lifetime.
---
Nothing is more important than simply taking a material in your hands, touching it, feeling it and working with it, especially when you have not previously experienced handling it.
This first experience is decisive in determining whether you feel comfortable and safe with the material. We know that in the end, it is not all about what we say and promise verbally. What does matter is that RESITRIX® keeps the promises we make – tested for a life expectancy in excess of 50 years, it is considered the best  waterproofing membrane for every type of flat roof construction, with virtually unlimited application options.
AREAS OF APPLICATIONS      |     THE TECHNICAL EDGE      |      FAQ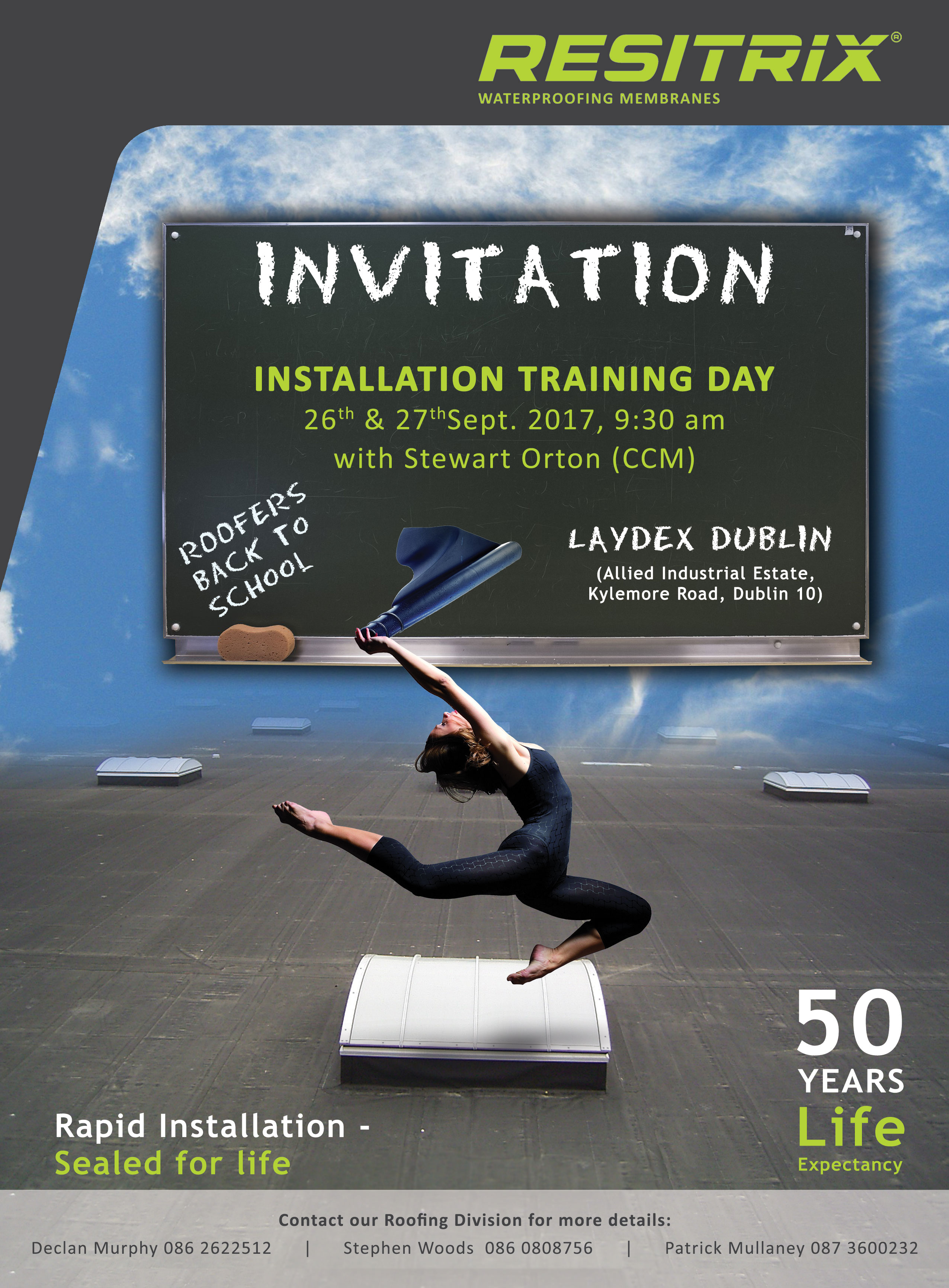 RESITRIX® waterproofing membranes are primarily designed for sealing of un- utilized and utilized flat roofs of any kind.
A second focus is the waterproofing of buildings and other advantageous applications as well as special areas that underpin the flexibility and versatility of RESITRIX® sustainably, such as Structural waterproofing for all loading conditions, joint sealing, gutter linings, cladding insulation, lightning conductor systems and many more.
Internal studies show clearly that 9 out of 10 people who had never previously worked with RESITRIX® actually went on to install it on a live roofing project very shortly after their first experience of handling it for the first time. Talk to one of our Roofing experts for more details!
Should you have any queries, please contact our Roofing Division on 016426600. Learn more about Resitrix® Waterproofing Membranes or check-out our Case Studies section where we post frequent updates of roofing projects in Ireland where Resitrix® has been successfully used.
Questions? Please contact us
Call us now
or
Request A Call Back
or
Contact your
local laydex rep

Or submit our contact form