itec
itec Contract Floors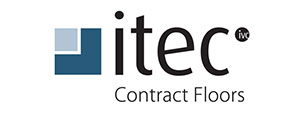 Vinyl flooring for commercial and contract interiors
itec Contract Floors provides vinyl flooring for commerical and contract interiors. Made in a state-of-the-art facility in Belgium, as part of IVC Group operations, Itec Contract Floors deliver excellent performance levels.
With special acoustic vinyl flooring, safety vinyl flooring and very heavy commercial rated vinyl flooring; the Itec portfolio consists of specialist solutions for education, healthcare, student accommodation, retail, leisure, housing, commercial and public use interiors.
All Itec floors are available in two or four-metre width options.
About Itec Contract Floors 
Itec Contract Floors is the commercial brand of IVC Group, Europe's largest manufacturer of heterogeneous vinyl flooring. As part of the Mohawk Group, Itec is within the world's largest flooring company.
Controlling every aspect of manufacture ensures that Itec vinyl flooring is crucial in ensuring quality and consistencty. Itec also invests heavily in research and development to ensure that performance and design remains as part of every flooring collection.
The International Vinyl Company (IVC) Group was founded in 1997 and has grown into an global supplier of synthetic flooring to the domestic and commercial flooring markets. Today, the IVC Group incorporates a team of over 650 employees spread across three business units, and since 2015 has become part of the American listed Mohawk Industries Inc., the world's market leader in flooring.

itec isafe Apex
As part of a new generation of advanced safety flooring, isafe apex is ideal for busy offices, schools, colleges, public spaces and residential care locations.
isafe apex flooring solution can be used anywhere that requires stylish flooring with the health and safety benefits of slip restraint.

 Provides TRRL 36+ Low Potential for Slip

 R11 Slip Resistance

 Use in normally dry situations at risk from water spillage

 Wet & dry shoe and barefoot slip resistence

 Hyperguard+ PUR low maintenance technology

 BRE Global Generic A+ rating for major use areas

 Available in 2m and 4m widths

 Class 43 Heavy Industrial

 All non-wood effect designs must be reverse laid
__________________________________________________________________________
itec PRODUCTS
Questions? Please contact us
Call us now
or
Request A Call Back
or
Contact your
local laydex rep

Or submit our contact form