Since the spread of COVID-19 became a global concern, the world has been more alert than ever about how we pass on germs in public. Everywhere we looked and listened were reminders to wash our hands as shoppers bought up every drop of hand sanitiser online and on the shelves (they are now widely available again).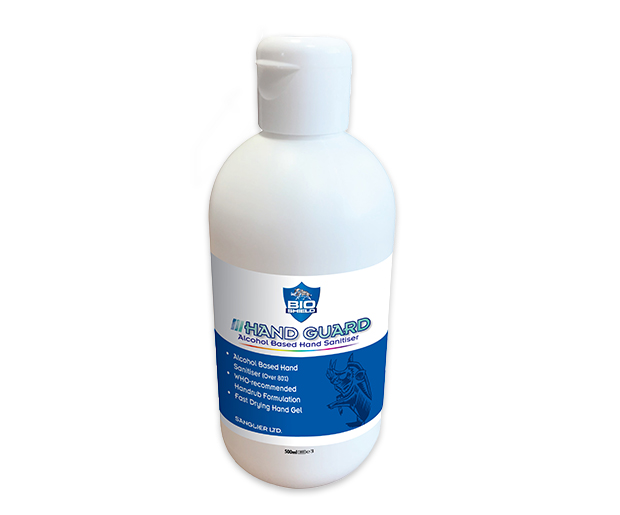 But now as businesses continue to reopen again, the focus is on making workplaces and public environments safe for staff and customers to adjust back to life before lockdown. One of the ways this is being done, as we have already seen in essential stores over recent months, is the regular cleaning of any surfaces people are likely to come into contact with.
It is now customary when entering shops, restaurants and other establishments to use hand sanitiser provided or to spray and wipe handles of baskets and trolleys before use. The same should go for anywhere you work – office, factory, warehouse, you name it – if you're sharing a workspace with other colleagues or have customers, clients or associates within the same environment then there should be sufficient hand washing provisions available at all times and strict cleaning measures in place.
But even though these increased levels of sanitation are "the new normal", you may still have questions as to why we need them wherever we go.
What does hand sanitiser do?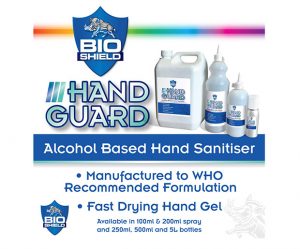 Although demand for them reached a peak in 2020, alcohol based sanitisers have existed for many years prior to COVID-19 and are commonly used for personal hygiene and in places that maintain good practices with cleanliness. Cleanliness doesn't just come down to keeping the premises visibly spotless, it also means using appropriate measures to prevent the undetectable spread of germs.
Alcohol sanitisers will kill many pathogens and viruses that would cause us to become sick if left on our hands or be transferred to others, either directly or through a contaminated surface. As COVID-19 infections spread so rapidly through contact, hand sanitiser makes complete sense as one of the key methods in combating this disease along with many before it.
While many brands of sanitiser are available, you should be aware that the product needs to contain at least 60% alcohol to begin to be effective in eliminating harmful organisms. The Bioshield Guard and Hand Guard range is made up of over 80% alcohol content and is a formulation recommended by the World Health Organisation. It works to destroy bacteria and viruses including influenza A, Rhinovirus, and certain strains of coronavirus. Alcohol based sanitisers are prioritised over the likes of antibacterial soap and disinfectant wipes in WHO guidance due to the higher concentration of alcohol and its strength against viruses.
Make sure to always check the label or description so that you know how strong the product you're purchasing is. It is not recommended to try and create a homemade hand sanitiser or buy from unverified sellers as there will be no legitimate guarantee of its effectiveness.
How do I apply hand sanitiser correctly?
Did you know that there is a six step method for using alcohol hand sanitiser which is recommended by WHO for being better at reducing bacteria count? This applies for when hands have already been washed with plain soap after using the toilets, and not if hands are greasy or visibly dirty as sanitiser won't remove dirt from hands.
The six step method, which should take 20-30 seconds, is as follows.
Apply a palmful of alcohol based sanitiser into a cupped hand, enough to cover every surface of the hands.
Rub your hands together palm to palm, then rub one hand over the back of the other with interlaced fingers and repeat for both.
Rub your hands palm to palm again, with fingers interlaced.
Rub the back of your fingers with opposing palms and fingers interlocked.
Rub each thumb rotationally using the other hand clasped around it.
Rub the tips of your fingers with a clasped hand into the palm of the other hand.
It may take slightly longer than you are used to, but research has proven that using this technique removes germs, after being studied through the hands of healthcare workers.
Why do we need hand sanitiser and spray at work?
After months of working and staying at home, we're more aware than ever of how easily certain diseases can move from one person to another when we're in close proximity. When we carry flus and viruses into the workplace it's quite certain that at some point a shared area or a high-touch surface will end up with the germs and others will catch them that way if not through direct contact.
Only last year the Matrix Recruitment Sick Day Survey found that nearly 90% of employees in Ireland have gone into work when they should have called in sick. This most often came down to feeling pressure about their workload, guilty about missing a day or fear of asking to stay at home. But with the coronavirus pandemic the world at large is much more aware of the deadly consequences of being contagious.
Still, as we also learned this year, many of us don't realise we're actually sick until it's too late and we may already have spread it far and wide. This is the main reason you should carry your own alcohol hand sanitiser product as well as why it is imperative for businesses to provide them throughout their buildings as well as spraying and wiping surfaces such as door handles, handrails, desks, counters and tabletops; anywhere likely to pick up a large amount of bacteria from constant use.
Most public facing businesses should now be implementing hand sanitising stations for customers, but it is equally important look after your own employees and enforce a hand hygiene programme to ensure staff have every opportunity to stay safe and healthy. A study in 2010 found that office workers encouraged to use alcohol hand sanitiser at least five times a day were two thirds less likely to get sick than those who just wash their hands. This can be aided by having stations or products as visible as possible in areas of high traffic, such as entrances, meeting rooms or communal areas, and making sure that supplies are always stocked up and replenished.
While society is moving to become more and more distanced and contactless, we must accept that not all contact is avoidable, especially if we want to get back to having normal human interaction outside of our homes. But as long as we remember to use these scientifically proven products where most appropriate we'll limit the number of absences at work and more importantly the spread of germs becoming fatal.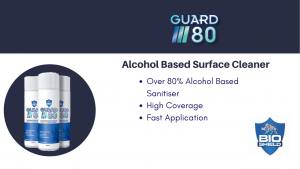 For advice on how much alcohol hand sanitiser and spray to buy for yourself or your workplace you can contact Laydex on +353 01 6426600, sales@laydex.ie or fill out the message form at https://laydex.ie/contact-us/.