RSL Ecuclad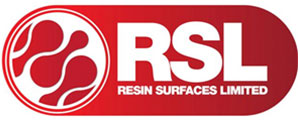 Description
Ecuclad provides an effective joint free wall lining, which is considerably more cost effective than preformed panels and is easy to clean, resists damage, temperature extremes and chemical spillage. The result is a safe, attractive working environment.
What the experts have to say

ISO9001
Quality Management
Resin Surfaces Limited (RSL) manufacture a comprehensive range of resin based wall finishes, designed for durability and ease of cleaning. All products are produced to ISO9001 with committed quality and service.

Provides protection for underlying substrate

Durable

Hygienic
Decorative

Reinforced strength from fibre glass membrane

Superb adhesion
Temperature Resistance:
Tolerant of sustained temperatures of up to 60°C
System thickness (dry):
1mm to 1.5 mm for the full Ecuclad system
Full chemical cure:
Up to 7 Days
Life Expectancy:
10 years plus. Subjected to Industrial Traffic. RSL terms and conditions will apply
Full Information:
Check out the full datasheet available in the Downloads section!