RSL Resuseal WB Clear
RSL Resuseal WB Clear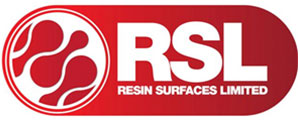 Description
Resuseal WB Clear is a two-pack, water-based epoxy resin compound, designed for use as a self-finished hard-wearing semi-gloss varnish-like coating or as a primer for most types of coloured resin systems, including epoxy and polyurethane. Resuseal WB Clear is supplied as a balanced pack of two components, which when mixed together, may be applied by brush, roller or spray.
What the experts have to say

Being Green
At RSL
The natural durability of a resin floor means it's often in place for many years without needing to be replaced, avoiding all the environmental costs involved in uplifting an existing floor, manufacturing a replacement one and installing it again. If you do have to refurbish a resin system, it is easily reapplied over the existing surface. Using resin is proven to reduce waste and energy costs.
Low odour

Non-taint

Light chemical resistance

Hard-wearing

Dust-proof

Freeze-thaw stability

Water-proof
Temperature Resistance:
Tolerant of sustained temperatures of up to 60°C
System thickness (dry):
45 microns to 70 microns (Per coat)
Pack sizes:
5 kg. & 10 kg.
Coverage rate:
5 kg. will cover 40 m2 @ 45 microns thickness
Pot life:
Up to 1.5 hours from mixing
Recoat time:
Overnight 16 - 24 Hours
Full traffic:
48 - 72 Hours
Full Information:
Check out the full datasheet available in the Downloads section!