RSL Resupen WB Colour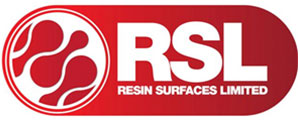 Description
Resupen WB Colour is a two-pack, coloured, water based polyurethane coating with good light-fast properties, designed as a floor and wall finish. Resupen WB Colour is normally applied by brush or roller.
What the experts have to say

Being Green
At RSL
The natural durability of a resin floor means it's often in place for many years without needing to be replaced, avoiding all the environmental costs involved in uplifting an existing floor, manufacturing a replacement one and installing it again. If you do have to refurbish a resin system, it is easily reapplied over the existing surface. Using resin is proven to reduce waste and energy costs.

Light-Fast

Good Chemicals Resistance

No Volatile Solvents

Hygienic

Tough Durable Coating

Attractive range of colours available
Slip Resistance (dry):
Std > 50 Matt >60
Temperature Resistance:
Tolerant of sustained temperatures of up to 60°C
System thickness (dry):
40 microns
Coverage rate:
5 litres will cover 40 m2
Recoat time:
6 - 8 Hours at 20°C
Full Traffic:
48 Hours at 20°C
Full Information:
Check out the full datasheet available in the Downloads section!