RSL Resupen WB Clear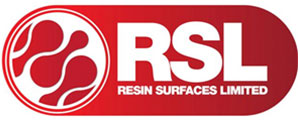 Description
Resupen WB Clear is a water based two pack gloss coating with a clear finish. It is designed for application onto epoxy resin based screeds to reduce surface absorbency and ensure ease of cleaning in hygienic locations. Resupen WB Clear is also designed for application onto walls as a clear, durable seal coating.
What the experts have to say

Being Green
At RSL
The natural durability of a resin floor means it's often in place for many years without needing to be replaced, avoiding all the environmental costs involved in uplifting an existing floor, manufacturing a replacement one and installing it again. If you do have to refurbish a resin system, it is easily reapplied over the existing surface. Using resin is proven to reduce waste and energy costs.

Impact and abrasive resistance

Available in semi-gloss and matt grades

Resistant to hot water
Good chemical resistance

Durable
Slip Resistance (dry):
Std > 50 Matt > 60
Temperature Resistance:
Tolerant of sustained temperatures of up to 60°C
System thickness (dry):
40 microns
Coverage rate:
5 litres will cover 40 m2
Full Information:
Check out the full datasheet available in the Downloads section!