A beautiful bathroom needs a stunning suite, appropriate wall coverings and all the little cosmetic flourishes which make your bathroom… Yours.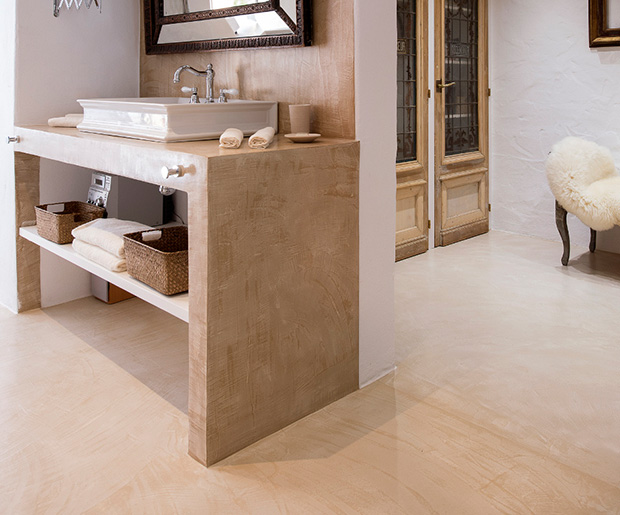 Still, a beautiful bathroom isn't complete without the perfect flooring to complete the ensemble. In choosing the perfect bathroom flooring, homeowners need to balance a number of stylistic, logistical and practical considerations. Even if you're a sucker for hardwood, for example, you may find that it doesn't offer the kind of water resistance you need in the bathroom (especially if you choose solid hardwood flooring over its engineered counterpart). Likewise, laminate or vinyl flooring may give you superior waterproofing yet doesn't give the look of your bathroom the degree of finesse it needs.
Increasingly, homeowners have begun to turn to a mineral skin called 'Mortex' for their bathroom flooring and walls. This coating gives your bathroom floor a "polished concrete" look that is at home alongside virtually any kind of bathroom suite.
Here's five reasons why you might want to choose Mortex for your bathroom flooring.
1. It creates a seamless floor covering
Anyone who's tried to apply virtually any kind of flooring to the home knows how difficult it can be to hide joints and seams to create a cohesive look. With Mortex you don't need to spend hours on your knees trying to disguise joints. You don't need to worry about dust and debris betting stuck in gaps. You don't need to worry about the horrible build-up that can develop in the grouting between floor tiles. You can just enjoy flawlessly smooth bathroom flooring.
2. Outstanding waterproofing
The aesthetic benefits are really just the tip of the iceberg when it comes to Mortex. It also offers superior waterproofing so you need never worry about water seeping through your flooring and into the substrate of your home.
3. It works anywhere
Another great thing about Mortex is its polished concrete style surface can be applied to any underlying flooring. It can be used to cover tiling, MDF and cement without the need for time consuming and disruptive demolition. It can be applied to an existing screed with an underfloor heating system without any loss of function. What's more, its benefits needn't necessarily be restricted to the floor. It can also be applied horizontally and vertically, covering both walls and ceilings with ease. This makes for the easy creation of wet rooms or for a more unified bathroom aesthetic.
4. It can fit perfectly into any aesthetic
Speaking of aesthetics, another benefit of Mortex is its aesthetic versatility. It can look and feel at home in any bathroom aesthetic. It complements any style of bathroom suite. It looks great in bathrooms with contemporary aesthetics but it can also feel at home in bathrooms with more traditional stylings. The waxed concrete appearance of Mortex creates a blank canvas upon which you can design and fabricate your dream bathroom, whether your tastes veer towards the traditional, the contemporary or somewhere in between.
5. It's impermeable and hard wearing
Finally, you need never worry about damage, scratches or breaches when you have a Mortex bathroom floor. Its seamless surface is also impermeable and extremely hard wearing, giving you a longer lifespan that few other flooring materials can match!
As leading stockists of Mortex in Ireland we can provide all the support, technical expertise, and design assistance you need to create a waxed concrete look for your bathroom or wet room.

Contact us now.