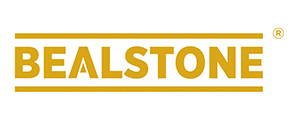 The BEALSTONE coating provides a unique style to your design projects thanks to its terrazzo look and its exceptional properties!
The BEALSTONE system is a new generation binder, fully customizable and designed to be mixed with a lot of aggregates (stones, shells, broken bottles, metal parts …). Its thickness (from 2 mm) fits in any interior or exterior project: walls, floors, furniture, countertops, …
INCREDIBLE COMBINATIONS
Combinations with such materials are numerous and allow a precise and distinctive customization. From shell or metal pieces to shards of glass or mirrors, these are some examples of what can be used to give BEALSTONE a magnificent look. Preselected aggregates are available for BEALSTONE but you can also use stones or other substances from your area.
DNA OF BEAUTY
BEALSTONE has in its DNA "terrazzo", "cocciopesto" and "granito" genes as well as genes of all coatings based on stones that are contained in a mortar. BEALSTONE is applied on a thin layer and can now be used to cover both walls and floors. BEALSTONE can also be applied on furniture!
A STRONG ALLIANCE
BEALSTONE is a coating that gathers various materials together. All its components fuse to form a hard-wearing coating.